Police said the man, believed to be in his 30s, died at the Anchor & Hope pub conversion site in Westferry Road on the Isle of Dogs.
The pub is being converted by contractor Zelltec into flats and a wall is understood to have fallen on the man.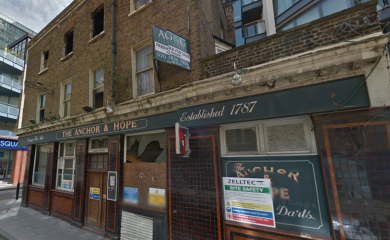 Anchor & Hope pub before conversion work started
An ambulance crew and paramedic team from the air-ambulance service at the Royal London hospital in Whitechapel were called to the site at 9am after a 999 call about a construction worker being injured.
They battled to try and save the man's life—but he was pronounced dead at the scene 20 minutes later.
The Health and Safety Executive has been informed.