The new DX255LC-5 is an extra 500kg heavier than the LC-3 model but delivers 17% more lifting capacity over both the front and side and a 1 dBA reduction in sound levels.
At the heart of the new excavator is the well-proven 6-cylinder, turbocharged Doosan DL06P water-cooled diesel engine. This meets Stage IV emission regulations without the need for a diesel particulate filter, through the use of cooled exhaust gas recirculation and selective catalyst reduction after-treatment technologies.
The DL06P engine provides an output of 141 kW (189 HP) at 1900 rpm, an increase of 5% in engine power.
Along with several other features this has helped to reduce fuel consumption further by an average of 4% to 9% compared to the DX255LC-3 model, says Doosan. 
Operators can check fuel consumption daily directly from a new Trip Meter Setting screen and pre-set a new automatic shut down for the engine after the machine has been idling for anywhere between 3 to 60 minutes.
Further fuel savings of around 4% are won by the Smart Power Control, to optimise the balance between the pumps' output and the diesel engine.
The new excavator is factory-installed with the new CoreTMSwireless fleet monitoring system, now standard in all new LC-5 generation machines above 14t.
Doosan DX255LC-5 excavator spec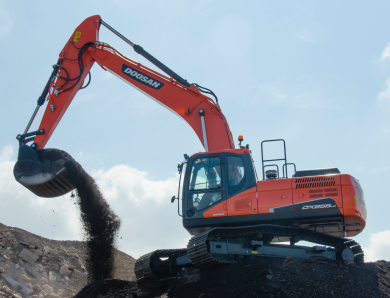 • Buckets: 0.51 – 1.49 m3
• Operating weight: 25.54 tonne
• Digging depth (std front): 6810 mm
• Digging reach (std front): 10175 mm
• Digging height (std front): 9705 mm
• Overall width: (with 600 mm shoes) 3000 mm (Narrow) 3200 mm (Std)
• Height (std front): 2995 mm
• Overall length in travel position (std front): 10080 mm
• Rear swing radius: 3040 mm
• Drawbar pull: 28.5 tonne
• Digging force over bucket (ISO): 17.9 tonne
• Digging force over arm (ISO): 12.8 tonne
• Lifting capacity at ground level (over front): 9.08 tonne at 6.0 m
• Travel speed: low range – 3.1 km/h
high range – 5.3 km/h
• Engine (SAE J1995 net):   6-cylinder Doosan DL06P
Stage IV (EGR/SCR),
141 kW (189 HP) at 1900 rpm