The breakthrough, 40m beneath the City of London, is part of Crossrail's longest tunnel drive of 8.3km from Canning Town to Farringdon.
It means 40km out of 42km have now been constructed.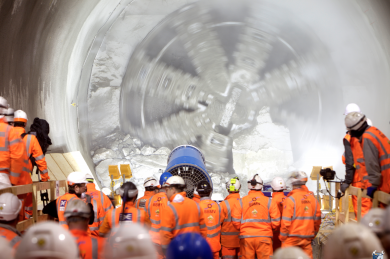 Liverpool Street station this morning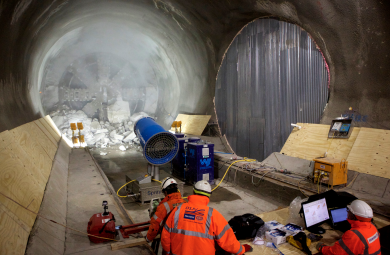 The Dragados/Sisk joint venture driving Elizabeth is left with 750m of tunnel to bore to link all Crossrail tunnels for the first time.
A grand finale big east/west breakthrough will take place at Farringdon Station in the spring when Elizabeth and her sister TBM Victoria, running a few weeks behind, complete the 42km tunnel drive.
Elizabeth and Victoria are the last of eight Crossrail tunnel machines to have carved a route beneath London linking the West End, the City, Canary Wharf and southeast London.
Andrew Wolstenholme, Crossrail Chief Executive said: "We are now on the final countdown to the big east/west breakthrough at Farringdon, which will link all of Crossrail's tunnels for the first time.
"This is a phenomenal feat of civil engineering that London can be justifiably proud of. The next challenge is to implement railway systems across the route, keeping the project on time and within budget."
Joint Venture Dragados Sisk is constructing the eastern tunnels between Pudding Mill Lane and Stepney Green, Limmo Peninsula and Farringdon, and Victoria Dock Portal and Limmo.
The station tunnels at Liverpool Street were built by a joint venture comprising Balfour Beatty, BeMo Tunnelling, Morgan Sindall and Vinci Construction.