Lend Lease is widely tipped for the major construction contract although joint owners Land Securities and Henderson Global Investors have yet to confirm their favoured contractor.
The expansion will include new retail space, a striking new atrium entrance onto Buchanan Street, and new bar and restaurant facilities.
Works will focus on an extension to the north and east of the current Buchanan Galleries, developing on the centre's current car park and extending the shopping mall over the railway lines of Queen Street station.
In total, the scheme will deliver £310m of private sector investment along with £80m of public realm and infrastructure improvement funded using the Tax Increment Finance model.
Buchanan Galleries Expansion
Extending the existing shopping centre – virtually doubling its size.
The demolition of the existing car park and building a replacement on a site at Queen Street Station.
Improving Buchanan Bus Station to create a transport hub for the city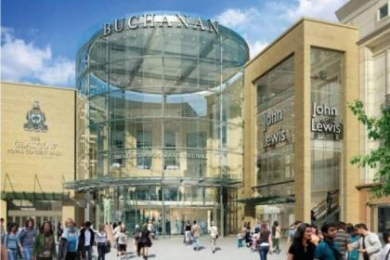 Erection of an entrance atrium to Glasgow Royal Concert Hall and Buchanan Galleries on Buchanan Street – replacing the steps
Constructing a new pedestrian bridge connecting the extension to the new car park.
Developing new retail frontage on Buchanan Street, Cathedral Street and Killermont Street.
Councillor Gordon Matheson, Leader of Glasgow City Council, said: "This planning consent will unlock over £300m of private sector investment for Glasgow.
Alongside our TIF scheme, the expansion of Buchanan Galleries will improve the city centre's public realm and infrastructure, and generate 1500 jobs."