A £15m loss on the hotel fit-out and a London residential scheme tipped the whole group £12m into the red in the year to May 2014, despite Byrne Bros concrete and Ellmer building divisions all delivering stable profits.
The firm said that since the setback Byrne Group had returned to profitability with a record pipeline of forward work worth in excess of £600m.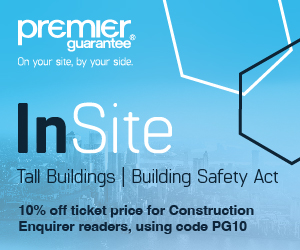 Turnover during the period rose 28% to £349m and is forecast to top £400m in 2016, as record forward orders feed through.
In latest accounts filed at Companies House for 2013/14, Byrne Group said that the transformation of Sea Container House into a hotel and office complex experienced significant delays and under performance from the mechanical and electrical services subcontractor which placed the hotel opening in jeopardy.
"The group took a strategic decision to make the necessary resources available to ensure that the hotel opened on the agreed date."
The second project that suffered a loss for Chorus Group was at its high-end residential Buckingham Gate project where difficult ground conditions caused an escalation in costs.
"The impact across the group has been controlled by the management team who have been able to leverage improved efficiency and productivity largely due to the Group's strong financial base and a continuing commitment to raising standards in health and safety, engineering quality and investing in people skills."
Byrne Bros (Formwork) enjoyed a surge in orders including phase one of the Battersea Power station redevelopment and the International Quarter in Stratford City where it picked up 30-floor and 17-floor towers.
The concrete business has also picked up the 500,000 sq ft London Wall Place office project, which is expected to drive turnover to  £140m in the 2015 financial year.