The firm secured the job with a £34m bid for works that include dredging the existing channel to make it deeper and wider for the bigger QE Class carriers.
The jetties will also be extensively refurbished to boost electricity supply to the carriers via a new substation located near the jetty.
The QE Class will be the centre piece of Britain's military capability. Each of the two 65,000-tonne carriers will provide the armed forces with a four-acre military operating base which can be deployed worldwide.
HMS Queen Elizabeth and HMS Prince of Wales will replace the 22,000-tonne Invincible class aircraft carriers, HMS Invincible, HMS Illustrious and HMS Ark Royal.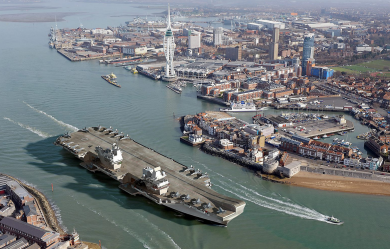 CGI of new QE Class carrier