The mix-up over ministerial roles at the department resulted in reports that the housing brief had moved on for the fifth time since 2010.
This morning a spokesperson for the communities department confirmed Lewis would remain as housing and planning minister in David Cameron's new cabinet.
Francois' responsibilities as a junior minister at the department have still to be confirmed. It was also confirmed that James Wharton becomes a junior minister for the 'Northern Powerhouse' within the communities department.
In one of the few major Cabinet changes, Eric Pickles lost his job as communities and local government secretary to former universities minister Greg Clark, in one of the few Cabinet changes. His appointment will be seen as a shift towards greater focus on regenerating the UK's cities.
Clarke held the brief as minister for cities early on in the Coalition Government before in September 2012, becoming financial secretary to the Treasury and then cabinet office minister in October 2013 and, latterly, minister for universities, science & cities last year.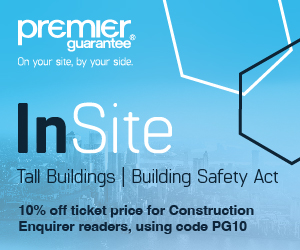 He is widely held to have been the main driver behind the Localism Act, passed in 2011, designed to devolve decision making powers from central government to communities and individuals.
Previous construction minister at the Department of Business, Innovation and Skills, Matthew Hancock will become minister for the Cabinet Office and Paymaster General, but his replacement has not be named.
Sajid Javid replaces Vince Cable as secretary of state at BIS, while Anna Soubry will also attend cabinet meetings as minister for small business.
Patrick McLoughlin continues as Transport Secretary.