The council has also confirmed a Farrans/Victor Buyck joint venture will be the bridge builders as tipped last month by the Enquirer.
The duo fended off international bids from Spanish group FCC and a Hochtief (UK) Construction/Dragados joint venture.
Sunderland's new bridge and its approach roads will link the strategic transport corridor from the Port of Sunderland, through the city centre, past key riverside regeneration sites and out to the A19.
Crossing the water between Castleton and Pallion, the three span cable-stayed structure will be supported by a 115m A-frame pylon.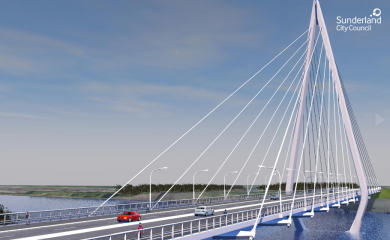 Sunderland city council will put £35m towards the bridge project with the Government funding the remaining £82m.
The council was forced to abandon a previous plan to build Britain's tallest bridge with iconic independent curving pylons last year after costs started to rocket.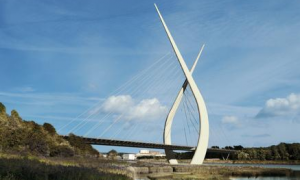 Contractors also shunned the ambitious scheme warning the project design was too high-risk a build for the £120m budget.
The main issue was the risk associated with building independently curved free-standing bridge pylons.
Preliminary works diverting utilities alongside the A1231 Wessington Way have already started.
Councillor Paul Watson, Leader of Sunderland City Council, said: "It is one of the region's biggest civil engineering projects and an investment that is going to help create more jobs and more economic growth.
"By improving links between the A19, the city centre and the Port of Sunderland, a new bridge has always been a key part of Sunderland's on-going regeneration.
"This announcement is great news for Sunderland and the wider region. There has been talk for a long, long time that Sunderland has needed a major new road crossing over the River Wear and it's an issue that has not gone away.