The latest order follows Laing O'Rourke's £200m deal to deliver the lagoon's 410 metre turbine house and sluice structure block.
Welsh contractor Griffiths will deliver ancillary civil engineering for the project's public realm works, which includes the breakwater surface, roads, slipways, utilities and landscaping. Meanwhile, following advanced works and value engineering, a fixed price contract will be signed later this year for the main build.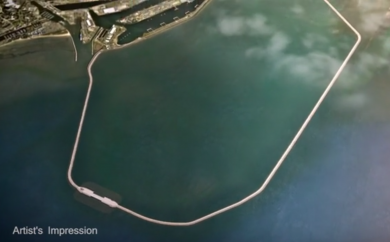 Tidal Lagoon Swansea Bay has also run tenders for the project's marine works package, the result of which will be announced shortly.
Further tenders for the construction of a Turbine Assembly Plant in Wales, and for the lagoon's public realm and buildings work will proceed through the summer.
Roger Evans, Chairman of the Tidal Lagoon Industry Advisory Group, said: "The appointment of Alun Griffiths is a reflection of the developer's commitment to ensuring that the Wales supply chain is fully able and prepared to realise the economic benefits of this game-changing development.
"Further works packages will be tendered over the coming months and we are encouraged that the other tier one contractors announced so far are being proactive in their engagement with Welsh industry giving us the opportunity to harness the power of this major £1bn investment in Wales."
Martyn Evans, Executive Director at Alun Griffiths said: "This is a major contract for our business and the lagoon will be an iconic piece of infrastructure for Wales."