Developer Sirius Minerals wants to open the deep mine near Whitby and build a 37km tunnel from the site to a Teesside processing plant.
The ambitious scheme initially attracted several contractors including BAM, Laing O'Rourke and Murphy. But now just McAlpine and Balfour are left in the running for the first civils package, understood to be worth around £40m.
Plans include construction of a mine head at Dove's Nest Farm and Haxby Plantation near the village of Sneaton. This involves extensive earth moving and site prepartion works, digging mining shafts, buildings, roads and a helicopter landing site on a 64-hectare site.
This element of the vast £1.7bn mining project was given the go-ahead last week.
The company is also still seeking permission for a materials handling facility site at the Wilton complex near Redcar.
An application for harbour facilities – which will provide the link between the site at Wilton and Teesport – has also been submitted to the Planning Inspectorate.
York Potash hopes to extract billions of tonnes of polyhalite and other minerals used in fertilisers, much of which it plans to export. At peak production the mine has the potential to reduce the UK's entire balance of payments trade deficit by 4%.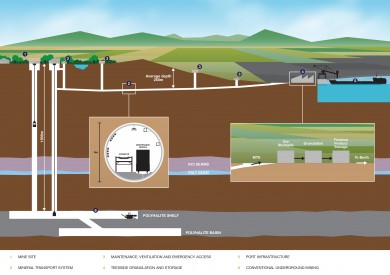 The project includes a 6m diameter TBM-bored tunnel between the mine head site at Dove's Nest Farm near Whitby, and a portal near the town of Redcar. Designed by Arup, it will involve five hard rock TBMs, which will be lowered in at four intermediate staging shafts.