Rowsley, a publicly-listed company controlled by Singaporean billionaire Peter Lim, and Beijing Construction Engineering Group, have signed a funding agreement to develop the 1.8-acre plot, known as St Michael's.
BCEG is the Chinese state-owned company involved in the £800m Airport City Manchester expansion project currently under construction.
Rowsley will pay £40m to acquire a 75% stake in St Michael Investments Pte, with BCEG owning 21%, Neville owning 2% and Giggs owning 2%.
The planned accommodation and office scheme at the Jackson's Row site off Deansgate is expected to have a development value of up to £200m.
The Singaporean firm's CEO, Lock Wai Han, said of the agreement: "We are excited to be in Manchester and to tap into its vibrancy and growth. Gary and his team exemplify the dynamism of the city and the City Council, and it's a style of working we are very comfortable with in Singapore.
"St Michael's will become a landmark development and will meet the growing demand for quality accommodation and offices in Manchester."
He added: "This will be Rowsley's first investment in Europe and comes at a time when the UK government is encouraging businesses to move north to escape the rising cost of operating in London."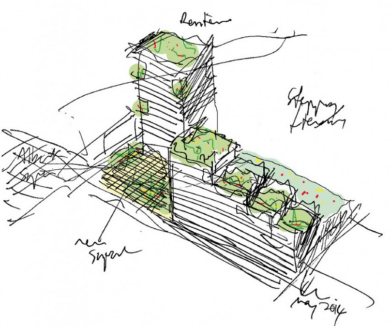 Architect Make has sketched out development plans for St Michael's Manchester.
Neville said: "This represents a very important milestone for the development of St Michael's.
"To secure funding for the project this early in the process is a fantastic achievement and demonstrates great confidence in the city.
"Moving swiftly is key and huge credit goes to Rowsley and BCEG for their committed approach in the last two months."