Three planning applications were passed for two new office buildings – One and Two Chamberlain Square – along with the major enhancement of public space.
Demolition of existing buildings including the old Central Library and the Paradise Forum shopping centre can now start within weeks, construction on One Chamberlain Square will begin in Spring 2016.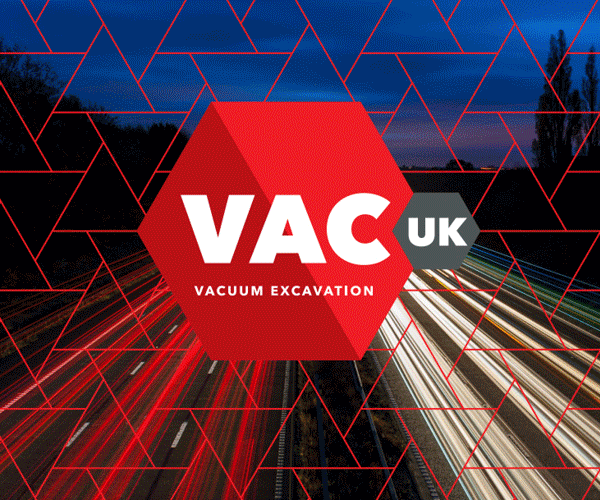 This will be followed by Two Chamberlain Square in Autumn 2016, with the refurbishment of Chamberlain Square itself taking place during this time.
Carillion was appointed last year to deliver phase one enabling and infrastructure works.
Senior projects director of development manager Argent, Rob Groves, said: "Now we have the City's permission, we will move forward on delivering these two exceptional office buildings and public space enhancements and bring our plans to create this prestigious business address at the civic heart of Birmingham into reality.
"As well as the two new office buildings, the attractive wide streets and squares will enhance the remarkable historic setting, which has one of the UK's finest collections of Victorian civic buildings."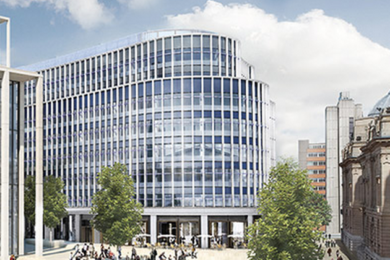 Designed by Eric Parry Architects, One Chamberlain Square (above) will be an elegant, curved, seven-storey building bounded by Centenary Way, Congreve Street and Chamberlain Square. 172,000 sq ft of office space, including a large roof terrace at the sixth floor level, will be delivered along with restaurant and retail uses on the ground floor.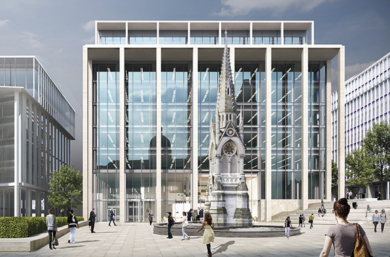 The adjacent, seven-storey Two Chamberlain Square (above) has designed by Glenn Howells Architects which oversaw the masterplanning for the full Paradise development.
The building will complement the historic setting, with a five-storey portico fronting onto Chamberlain Square and stepping back at the sixth floor with a roof terrace.
Grant Associates Landscape Architects is overseeing a dramatic refurbishment of Chamberlain Square, which include includes a new, wide pedestrian street through the centre of the development, linking the upgraded Chamberlain Square to Centenary Square.
When complete, Paradise will comprise 1.8m square feet of offices, shops, cafes, restaurants and a hotel in up to 10 buildings.
The Paradise redevelopment is being brought forward through Paradise Circus Limited Partnership, a private-public joint venture with Birmingham City Council, funding from Hermes Investment Management with Argent acting as development manager.
The enabling and infrastructure works, currently underway, have been funded through an approved £61m investment by the Greater Birmingham and Solihull Local Enterprise Partnership.
The planning consultant for Phase One is Deloitte Real Estate. Letting agents for One and Two Chamberlain Square are Bilfinger GVA and CBRE.