London office construction has climbed 18% in the last six months to 11.1m sq ft, with 26 new schemes starting construction over the period, according to the latest London Office Crane Survey by Deloitte Real Estate.
Total space now under construction in central London is 11.1 million sq ft, spread across 77 schemes.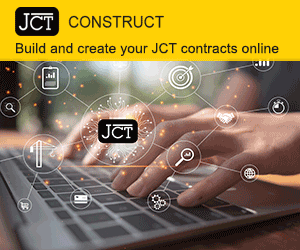 Steve Johns, head of City leasing at Deloitte Real Estate, said: "Cranes will be dominating London's skyline for the foreseeable future as construction activity keeps pace with healthy occupier demand. 4.3msq ft of the 11.1m sq ft under construction has already been let, up 22% from our last survey.
"Looking ahead, developers' sentiment remains high, as 21 of the new starts totalling 2.6m sq ft are speculative developments."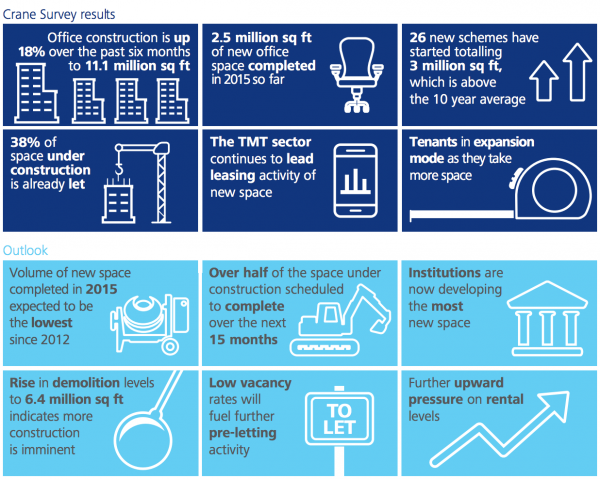 Construction in the City is up by a quarter, with 13 new starts adding a further 2m sq ft into the pipeline.
This takes the total amount of space being built in the City market to 5.7m sq ft. Activity has also risen in Midtown, where six schemes have started and a total of 1.3m sq ft is now underway, while the West End has seen a 5% increase in activity this survey, bringing its pipeline total to 2.4 million sq ft.
Leasing of buildings under construction is dominated by technology, media and telecoms firms taking 44% of space. This is followed by the financial sector taking 27% of space.
"The financial sector has increased its share of the space on six months ago and we believe that this trend will continue with requirements from financial firms fulfilled by taking space under construction," adds Johns.
Will Matthews, head of research at Deloitte Real Estate, said: "We expect that just 3.3m sq ft of space will complete in 2015, the lowest amount for three years.
"Looking ahead though, the development pipeline for 2017-19 is filling up as work commences on new schemes. We have also recorded a further 24% upsurge in sites being demolished and readied for construction, meaning early indications are that space completed in these years will exceed the long-run average.
"Developers will be mindful of the fact that this rise in office construction comes at the same time as high levels of residential and infrastructure development, increasing competition for available construction capacity.
"Ultimately the rise in office development recorded in our latest crane survey comes after five years of relatively low delivery, which has exacerbated the current shortage of available Grade A stock. This new space will not be completed for some time and we forecast further upward pressures on rental levels in the short term."