The EU came under fire from UK producers immediately after setting provisional duties on Chinese imports of rebar of between 9.2% and 13% on Friday.
Industry representative said the move would fail to stem the flood of Chinese rebar into the country, which now accounts for nearly half of sales.
The influx has seen rebar prices fall by 20% over the year.
Several main contractors have signed up to use European sourced rebar, but commercial pressures to keep costs down are seeing demand for cheaper Chinese rebar running at record levels.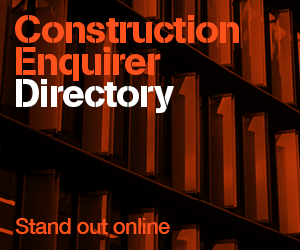 Gareth Stace, director of trade body UK Steel, said: "The Commission's highly thorough investigation of Chinese exports has highlighted dumping margins in excess of a whopping 60%, however given that the European Commission always imposes the minimum duties possible, unlike the US, then what we end up with are duties that are totally inadequate and may not have any material effect.
"If this was the US, we would have seen duties set at 66% and brought in after 45 days from the start of the investigation. Not 9% after almost a year, from a drawn out and procrastinating EU machine.
"Unless these provisional duties are increased, then we will see further job losses in the rebar sector in the future, as China shows no sign of stemming this tidal wave of rebar exports, with ever increasing tonnage reaching our shores."
He added: "The scale of the crisis affecting the European steel sector has not yet fully registered with Brussels Bureaucrats.
"Basing the provisional duties on a so called 'reasonable profit level' of 1.65% is a slap in the face for UK manufacturers of rebar, which has seen China taking more than 45% of the UK market from zero in as little as four years."
"However, the provisional duty that will be imposed on Chinese rebar imports is significantly below what we would expect for such a flagrant disregard of fair trading practices. The Commission's nervousness has prevented it from using its full armoury to tackle this growing crisis.
"The Commission must now focus on achieving higher and more appropriate levels for the final duties, as quickly as possible."
He added: "In the meantime, we hope the construction sector will recognise their responsibility to support sustainable British steel in the supply chain, and avoid these unfairly traded products."