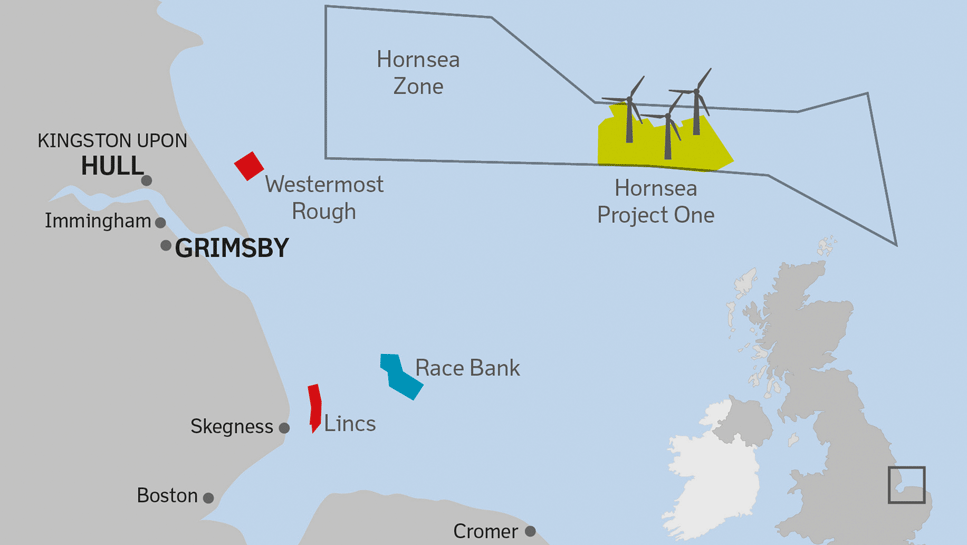 The 1.2 gigawatt Hornsea One wind farm of 174 wind turbines will be located 75 miles off the Yorkshire coast and capable of powering over one million homes when it comes on stream in 2020.
The project will bring a bid boost to the region creating 2,000 construction jobs during delivery.
A major Siemens blade factory is being built in Hull to support the project, boosting a Northern and UK wide supply chain.
A £25m contract has also been awarded to UK infrastructure company Balfour Beatty for the construction of the onshore substation.
The offshore wind farm will use wind turbines which will each be 190m tall – higher than the Gherkin building in London.
As part of the project, DONG Energy will construct the longest ever offshore wind farm high voltage AC electrical system in the world. It will take the clean electricity produced by the wind turbines, transmit it to shore and then feed it into the national grid.
This system includes more than 900 km of cables, enough to stretch from Land's End to John O'Groats.
The ambitious project cleared its final hurdle this morning when the DONG Energy board delivered the final investment decision.
Energy Secretary Amber Rudd said: "Thanks to Government support the UK is the world leader in offshore wind energy and this success story is going from strength to strength."
DONG Energy also hold  project rights to the Hornsea Project Two and Three, which have the potential
of further 3 gigawatt offshore wind power capacity in total.
Hornsea Project One is expected to be fully commissioned in 2020.