L&Q, The Hyde Group and East Thames are aiming to create one of the country's top four largest house builders.
The mammoth housing organisation would be worth an estimated £30bn and aims to build the new homes across London and the South East – 35,000 more homes than they could have achieved alone.
The ambition represents an investment of £25bn over the next 10 years, making the body one of the industry's super clients.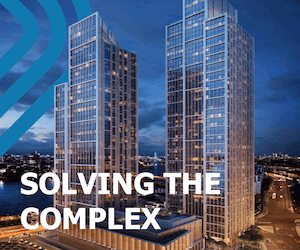 Elaine Bailey, Chief Executive of The Hyde Group, said: "The combined strength of all three associations means that we will be able to deliver a house building programme that would have been impossible to achieve for each organisation alone.
"Put simply, we are stronger together – more financially capable of delivering and managing our stock than we are apart. Every penny that we make will be invested back into the services we deliver and into building much needed homes."
L&Q, The Hyde Group and East Thames estimate there will be £50m a year savings within five years, primarily through combining back office functions, investment in IT and combined purchasing power in procurement.
The enlarged new-build programme is targeting 25,000 affordable new homes for first time buyers and 25,000 new homes for affordable rent, with the remaining 50,000 new homes for market rent and sale.
The 35,000 additional new homes built as a result of this proposed merger represents an investment of £9bn.
Housing Minister, Brandon Lewis, welcomed the move. He said: "This shows what can be achieved by combining the strengths of each organisation.
"It will make a real difference to increase their capacity to build, house and help thousands of people across London and the South East."
The merger will also see the creation of a new training academy providing nationally accredited apprenticeship schemes.
Through the expertise that East Thames brings, a large care and support subsidiary will be created taking in supported housing from all three partners and investing in a new offer for vulnerable and older people, catering for London's ageing population.
The new organisation will set aside £250m over and above current spending levels for community investment, funding like-minded charities and groups to deliver projects which make London and the South East a better place to live.
David Montague, Chief Executive of L&Q, said: "Our plans will allow us to tackle the housing crisis head on, driving greater efficiency, building more homes, creating beautiful new places and sustainable, independent communities.
"At the heart of our united mission will be the continued provision of affordable homes for those in need.".