By day George Mosey works at the Custom House C520 site on the Docklands Light Railway.
But this weekend he will be donning the outfit – known as Eddie – and pounding the streets of London to raise cash for construction industry charity The Lighthouse Club.
The outfit weighs an extra 16kgs but will certainly draw attention to Mosey as he runs in aid of the charity's "We can be heroes – Just for One Day" campaign.
Sunday will be Mosey's eight marathon raising money for the construction industry charity.
He said: "I've been working in the construction industry since 2009 now, after I graduated from Manchester through the Laing O'Rourke Young Guns Programme, my work has seen me work my way up from section manager, to construction manager to project manager.
"Along the way I've been fortunate enough to work with some great people and on some great projects.
"I'm currently delivering the Crossrail Custom House Station C520for Laing O'Rourke alongside some great contracting companies and great workers."
Mosey thinks the additional weight of the outfit will take his time from three hours to nearer the five hours 20 minutes mark.
Site colleagues are running a sweepstake on the finishing time of their project manager between 4hours 50 and 5 hours 40.
Mosey said: "As our project gets nearer the business end of delivering on time you find yourself training less and less and less and even though I am an experienced marathon runner, when you are trying to do deliver your project, train as you have to train up to the marathon and fundraise; it becomes quite hard."
This year thousands of construction workers are taking part in the "We can be Heroes- Just for One Day"campaign.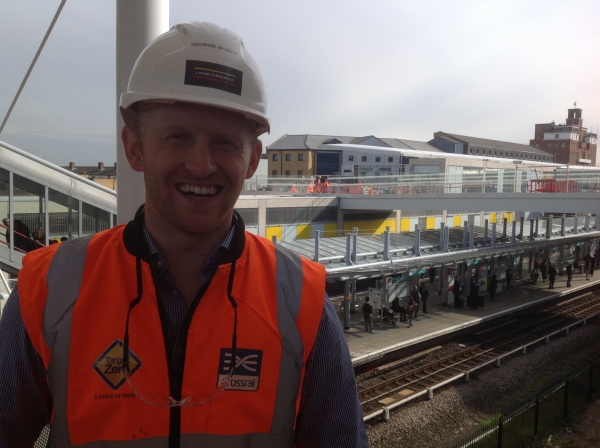 Mosey on site at Crossrail Custom House
Bill Hill, CEO of The Lighthouse Club said: "We recognise that hundreds of companies are raising money internationally, nationally, regionally and locally and there isn't a week when someone sends you an email telling you about something they are doing and can you sponsor them.
"What we also realised was that with 3.5 million people in the construction industry, sadly it is still a case where we lose 40+ colleagues a year through fatalities, where 2000+ colleagues are injured and there is no safety net for a lot of these workers."
The whole purpose of We can be Heroes -Just for ONE DAY campaign is everyone can do something for ONE DAY, everyone can give up ONE DAY of their time be it playing Golf, sponsored walks, dress down days, team shirt Friday or donning 9ft Foam Lighthouses and running 26 miles on the streets of London"
To sponsor Mosey for his marathon run click here