Sirius Minerals, a fertilizer producer, hopes to start preparatory building work at the site near Whitby shortly, with the mine opening in 2021.
A 23-mile tunnel will be built, so minerals can be transported to a processing plant on Teesside.
The fertilizer producer also named Associated Mining Construction – formed from specialist firms within the Thyseen and Redpath group – as preferred bidder for shaft sinking at the mine site.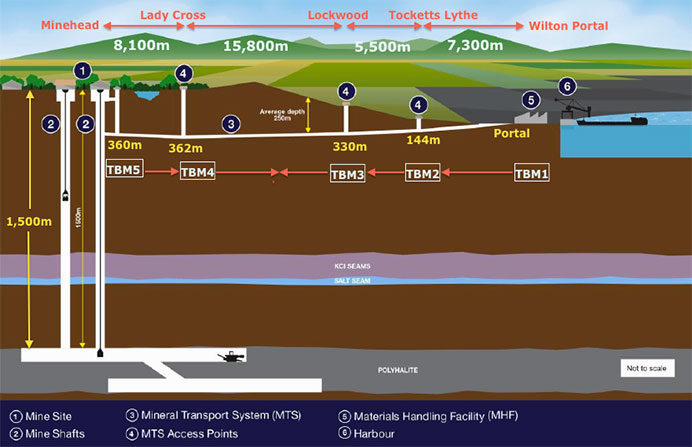 The Murphy Hochtief joint venture will design and build the underground mineral transport system to link the mine with the materials handling facility.
This will involve a 6m diameter TBM-bored tunnel between the mine head site at Dove's Nest Farm near Whitby, and a portal near the town of Redcar.
Designed by Arup, the plan is to use five hard rock TBMs, which will be lowered in at four intermediate staging shafts. The starting depth will be around 360m below the surface at the mine head.
The 12-month first phase of work will comprise front end engineering design and a detailed geotech programme along the route.
From this work a refined estimate based on a full design will be compiled, prior to agreement of the contract sum.
Chris Fraser Managing Director and CEO said: "This is the culmination of a huge amount of work by both the successful bidders and those that have been unsuccessful and we thank all of the groups involved for their efforts.
"We are delighted to now be moving forward with our selected partners towards the implementation of the Project."