The Garden Bridge Trust has insisted that it will pay for all strengthening work at London's Temple Tube station, needed to allow for the bridge to land on the roof.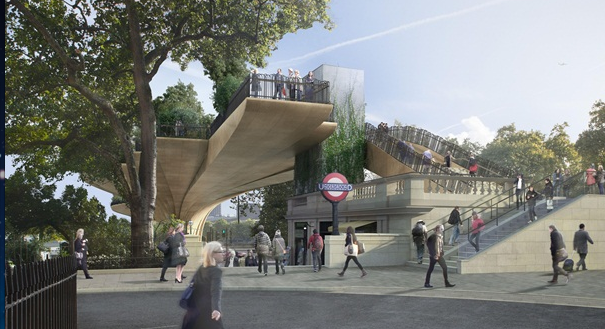 Transport for London's finance and policy committee was expected to formally approve an extra £3m in spending on this element of enabling works, which was to be repaid by the trust.
But Mayor Sadiq Khan, who said he would back the scheme on the condition that no more public money was spent on the project, halted work for a full review into the financial position of the bridge earlier this month.
So far around £60m has been pledged from the public purse to the £175m bridge project.
A spokeswoman for the trust said: "London Underground has completed initial work at Temple. Its work is now paused while the trust completes all required planning and land matters ahead of starting full construction."
She added: "Once all planning and property matters have been resolved, the next phase of the London Underground work will commence. All works will be paid for by the trust. It is full steam ahead across the planning priorities and fundraising is also very active."
A spokesperson for mayor said: "The previous mayor first approved plans for enabling work to prepare Temple Tube station for the arrival of the Garden Bridge two years ago in the summer of 2014, but final authorisation was only provided in March this year, two months before the mayoral election.
"This enabling work has since been suspended and that was reported to the finance and policy committee last Friday."
"Sadiq Khan has been clear that no new public funds should be committed to the Garden Bridge and he has pledged to make the project more open and transparent – standards that were not always met under the previous administration."