Gordon MacDonald has joined Mabey's UK Hire business, which designs and installs temporary works and infrastructure monitoring services, with a track record in both construction and retail.
He was managing director of Elliot Hire, and two Wolsley Group subsidiaries – Build Centre and Encon. Previously he was chief operating officer of furniture manufacturer and retailer MFI, and HR director of the Safeway supermarket chain.
Mabey Group chief executive Juliette Stacey said: "Mabey is putting high quality customer service at the heart of our company and Gordon's extensive retail experience is exactly what we need to drive consistency and growth across the UK Hire business.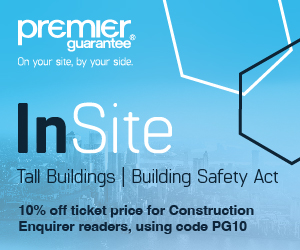 "He will bring in a lot of what is common practice in the retail sector to the construction industry, helping us to focus on delivering excellent service to our customers. This, combined with our leading infrastructure monitoring services, means Mabey is well-placed to deliver future success for our customers and our business."
MacDonald said: "Mabey has been listening to its customers and we're improving our business based on their needs. We're already making changes, having introduced national key accounts for some customers with a dedicated service and a single point of contact."