The hole stretches five storeys below ground to a depth of 28.5 metres and will be home to a NHS high energy proton beam therapy centre to treat cancer.
The Department of Health and NHS England is funding the development for University College London Hospitals NHS Foundation Trust.
Fabienne Viala, Chairman of Bouygues UK, said: "This is exactly the kind of project we relish.
"The complexity of undertaking London's biggest excavation within a tight site at the heart of central London enables us to add value through our technical knowledge and the infrastructure expertise of our colleagues within Bouygues Travaux Publics.
"This is no ordinary project: as well as being an innovative and complex build, the finished development will have the potential to improve and even save the lives of those suffering with blood disorders and complex cancers."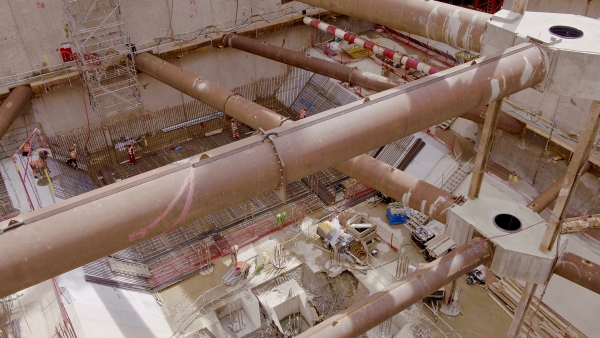 Work began on the site in December 2015 and is scheduled to take 50 months.
The proton beam will be housed in a purpose-built centre on Grafton Way and Huntley Street, along with the largest blood disorder treatment facilities in Europe and a short stay surgery centre.
Spread over nine floors, five above ground and four below, patients will start to be treated at the new centre in 2019.