Clarke was a big hit at the inaugural awards last year and he will be joined by comic Walsh who will round the night off with a storming set of stand-up.
It is less than a month to the big night on October 10 and tables are selling out fast.
The Top Ten winners were confirmed earlier this month after more than 10,000 votes were cast by the industry. All the winners are also listed below.
Awards night in Birmingham will see the construction world gather to pay tribute to its favourite firms during UK Construction Week.
Being voted for by your peers makes an Enquirer Top Ten place a unique badge of honour – awarded to construction companies by construction people.
The industry has spoken and chosen its best places to work at and the best companies to do business with.
Winning contractors, clients and suppliers have been backed in their thousands by staff and their supply chains.
Tickets are now on sale for the event which is the perfect chance to say thank you to the staff and suppliers who have helped win these prizes.
Enquirer editor Aaron Morby said:"It will be great to see all the winners on the night and tables are booking up fast as firms rightly reward their staff with a top night out."
A raft of big-name sponsors are already backing the awards.
On board so far are Engage, Torsion Group, JLT, Hadley Group, Screwfix, Cemex, Laing O'Rourke and Velux.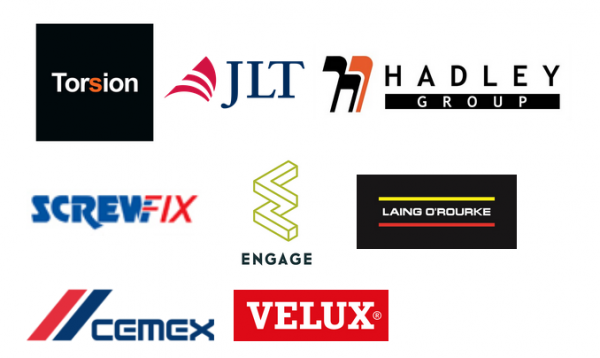 Further sponsorship opportunities are available to associate your brand with awards which are engaging the whole of construction.
To discuss sponsorship packages please email Lucy Stott
Tickets for the awards night cost £250 or £2,500 for a table of ten with a 10% discount available until September 1
To book your places please click here
The full list of winners is:
Best Client to Work With (Public and Private)
Argent
Berkeley Group
Dyson
Jaguar Land Rover
Kemira Chemicals UK
Highways England
Land Securities
North West Construction Hub
Rotherham Metropolitan Council
Scape
Best Main Contractor to Work For (Over £250m)
Ferrovial Agroman UK
Graham Construction
ISG
J Murphy
Laing O'Rourke
McLaren Construction
Morgan Sindall
Sisk
Taylor Woodrow
Willmott Dixon
Best Main Contractor to Work For (£50m – £250m)
8Build
Barhale
Beard Construction
Farrans
FM Conway
McNicholas Construction
Raymond Brown Construction
Novus Property Solutions
Shaylor Group
Speller Metcalfe
Best Main Contractor to Work For (Under £50m)
Carillion Highways Maintenance M40
Colmore Tang
Colorado Group
GPC74
Hightown Group
Jarvis Contracting
Jenner Contractors
PiLON
Torsion Group
VolkerWessels UK
Best Specialist Contractor to Work For (Over 25m)   
Astins
BAM Ritchies
Briggs Amasco
Briggs & Forrester
Carey Group
McGee
NG Bailey
Severfield
Vital Energi
Watkins                                                                                    
Best Specialist Contractor to Work For (Under £25m)
Aarsleff Ground Engineering
Ardmac
Builders Beams
Clarke Facades
Hazelwood Carpentry Contractors
PHD Modular Access
Scitech Engineering
SMD
Taylor's Hoists
VolkerLaser
Best Main Contractor to Work With (Over £250m)
Balfour Beatty
BAM Construction
BAM Nuttall
Graham Construction
Kier
Laing O'Rourke
Lendlease
Sisk
Skanska
Willmott Dixon
Best Main Contractor to Work With (£50m – £250m)
Bardsley
Barhale
Clugston Construction
Caddick Construction
Farrans
McNicholas Construction
North Midland
Shaylor Group
Speller Metcalfe
Watkin Jones
Best Main Contractor to Work With (Under £50m)
AE Yates
Cheetham Hill
Colmore Tang
Jarvis Contracting
Manton Building Contractors
PiLON
Torsion Group
VolkerWessels UK
Warden Construction
Wildgoose Construction                                          
Best Specialist Contractor to Work With (Over £25m)
Briggs Amasco
Carey Group
J Reddington
Keltbray
Lakesmere
McGee
NG Bailey
Prater
TClarke
Vital Energi
Best Specialist Contractor to Work With (Under £25m)          
A1 Flue Systems
Bauer Technologies
Bracknell Roofing
G&H Group
GKR Scaffolding
M&J Group
MVS Group
SMD
Style Partitions
Tiger Scaffolding
Best Construction Supplier to Work With (Over £25m)
FP McCann
Hudson Contract Services
JCB
Mabey
Marley Eternit
Metsec
PERI
SIG
Tarmac
VP Groundforce
Construction Supplier to Work With (Under £25m)
Basestone
Biosite Systems
Bryson Products
Constructionarium
One Way resourcing
Purpol Marketing
PSP Aluminium
Safewise
TD Construction Testing
Visual 5D