It is the third framework agreement for offsite construction from the ESFA in a plan to revolutionise the way education buildings are specified, procured and delivered.
The agency hopes that modular construction will give it more cost effective delivery in the face of rising construction costs.
Selected firms for the latest framework will be used to deliver both individual secondary school extensions as well as several whole schools.
Lot one will be used for higher value schemes and will include a bundle of projects worth around £20m, with potential for a pipeline of £250m.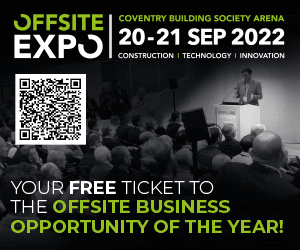 Lot two will involve a bundle of smaller projects of around 16,000 sq ft, worth up to £15m, but offering a potential future pipeline of £50m.
So far the ESFA has let two other modular framework agreements for primary schools.
The Modular A framework, which is being used for whole school buildings, was won by Eliott, which secured nine schools, and McAvoy, which is preferred bidder on an additional three schools.
A joint venture between Styles & Wood and modular specialist Extraspace Solutions picked up the Modular B framework to deliver primary three school block extensions.
Caledonia was also announced as preferred bidder on this framework, which will deliver initially 16 schools projects, with further schemes expected up to a value of £95m.
Richard Crosby at the ESFA will be overseeing the procurement of the secondary school partners.