It is the first time the industry has suffered a fall in output for two consecutive quarters since 2012 and has led to calls for a stimulus package in this month's Budget.
New figures out to day show construction output contracted by 0.9% in the three-month on three-month series to September, but still remains at relatively high levels.
This fall of 0.9% for July to September follows the decline of 0.5% in the second quarter. The slide in workloads was down to decreases in both repair and maintenance, which fell 1.4% and all new work, which fell 0.7%.
Construction output fell 1.6% month-on-month in September 2017, stemming from falls of 2.1% in repair and maintenance and 1.3% in all new work.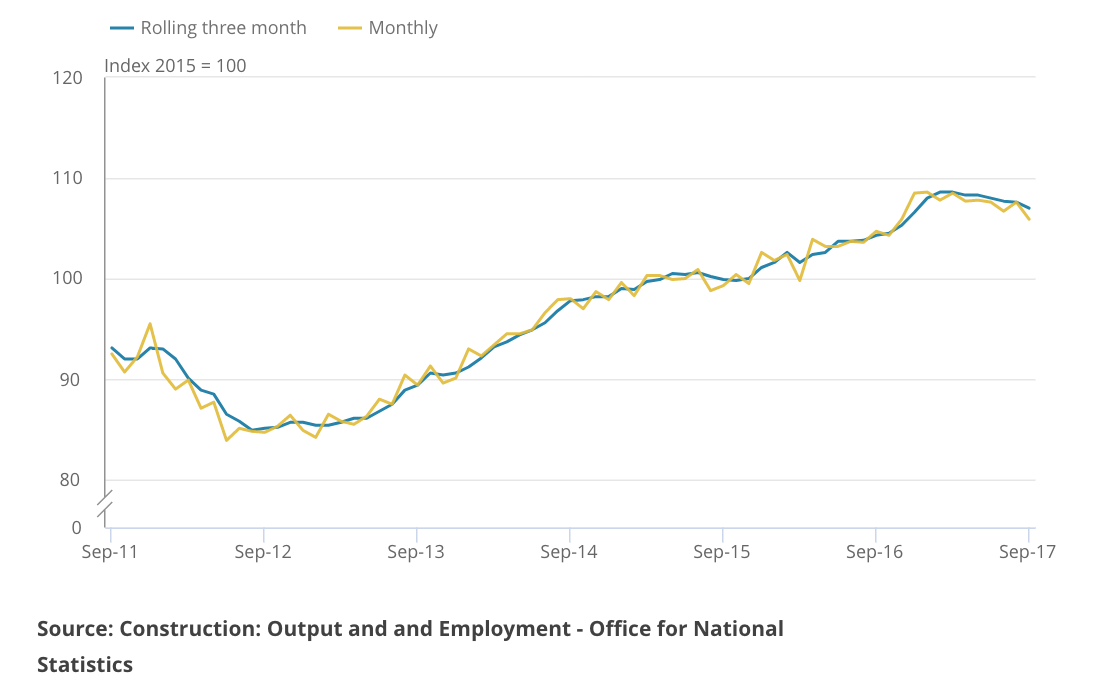 Despite continuing output falls since the January peak this year, construction output remains 26% above the five-year trough point in January 2013.
During the third quarter just the industrial sector and private and affordable housing experienced work growth.
Mark Robinson, Scape Group Chief Executive, said: "There has been a very positive increase in house building activity, particularly in the public sector, which has seen a very significant turnaround on the previous year. However this must be matched with new public buildings and the infrastructure projects that growing communities need to thrive.
"In the coming months we should see more of the Government's National Infrastructure Plan pipeline projects filter through, which could help to provide certainty and stability for the industry.
"However it is essential that further funding for both small and large infrastructure projects are at top of the Chancellor's agenda for the upcoming Budget, to keep momentum flowing and better connect our towns and cities.
"A vote of confidence from Hammond would not just benefit the industry but will also secure future UK economic growth through the Brexit transition and beyond. "
Michael Thirkettle, chief executive of construction consulting and design agency McBains, said: "Today's figures indicate the shadow of Brexit still looms large over the industry – the fall in the value of the pound since the EU referendum causing imported building materials costs to rise, while company and UK investors caution is holding back investment in new projects, so many contractors' margins are shrinking.
"Confidence is in short supply and that's certainly a thought Philip Hammond needs to grapple with in his Autumn Budget in a couple of weeks."
Rebecca Larkin, Senior Economist at the Construction Products Association, said: "At a headline level, today's data shouts 'construction recession', however, output remains at relatively high levels – 1.1% higher than a year ago and 7.1% higher than 2015 Q3.
"There is also a clear variation in performance by sector, as highlighted in the CPA's forecasts. Private housing output rose 1.8% to a record high during the quarter, with demand and confidence sustained by the Help to Buy equity loan.
"Nevertheless, areas of weakness include private commercial, where new orders have fallen for three quarters and signal a lack of offices and retail projects to replace those now coming to an end. This is echoed in the public non-housing sector, which is suffering from lower volumes of work on schools and a dearth of new large hospitals projects."