AGD has been supplying kit to Ivor King for the last five years.
The latest delivery is a new RTG RG21T telescopic leader rig.
It is pictured equipped with a MB150, 15 ton metre torque rotary head suitable for installing CFA piles up to 750 mm diameter and 21 m deep in very tough soil conditions.
The machine is currently in Leicester installing 16 m deep 600 mm diameter CFA piles into mudstone.
The rig also has a 150 tons MR150AVM vibrator capable of installing steel sheet or tubular piles up to 21 m long.
The RTG RG21T features a massive 750hp engine which allows the rig to operate either a 150 tonnes resonance free variable moment vibrator or a 15 tonne metre CFA rotary head with optimum performance installing either sheet piles or CFA piles to 21 m depth in a single stroke.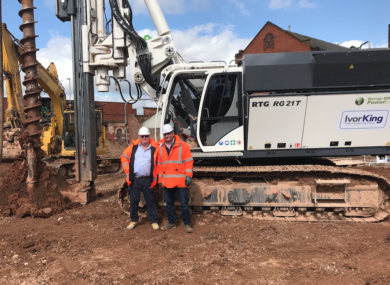 AGD Managing Director Robert Law and Simon King MD of Ivor King