He told the Enquirer that the present contracting environment demanded strong balance sheets to secure work for clients and maintain good supply chains.
He said: "We are very focused on getting cash in because strong balance sheets really matter in this market."
Morgan Sindall was now aiming for daily net cash levels to be over £70m during this year.
He said that clients were increasingly stress testing contractors and the balance sheet was becoming a big differentiator at bid stage following the collapse of Carillion and high levels of debt at many other big name contractors.
After posting strong annual results, Morgan Sindall has released graphs tracking two years of daily net cash in the business, which reveal relatively stable profiles from month to month and little year to year variance.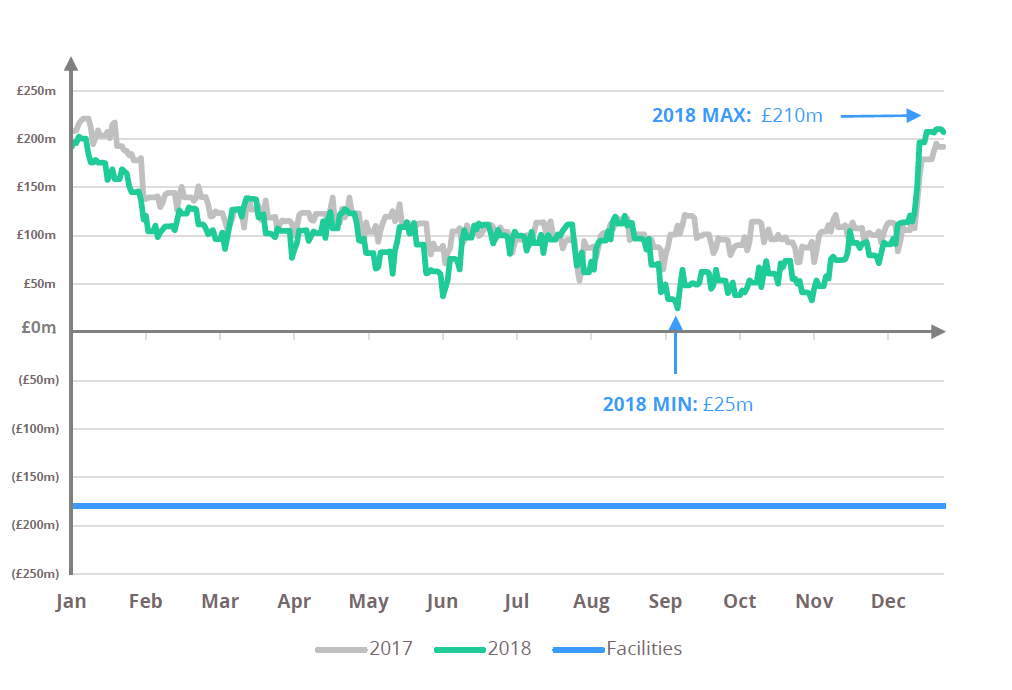 He said that good cash management at Morgan Sindall had seen the firm deliver a strong performance over the last two years, with an average daily net cash position of £100m last year
Morgan Sindall also enjoys undrawn bank facilities of £180m through to 2022.
He added: "A strong balance sheet reassures all stakeholders: customer, shareholders and our supply chain partners."
Contractors' problem in the new business environment have been magnified by the steady shift by clients away from releasing cash upfront on projects to more steady funding on framework and partnership projects.
The business is now receiving 28% of work from frameworks – up from 17% in 2017, which means work is less cash positive going forward.
The Construction and Infrastructure division is reported to be paying the supply chain within 44 days, while the fit-out business Overbury is down to 26 days.