The West Midlands Fire Service attended the scene and confirmed no-one was injured in the incident.
Balfour was appointed last October to patch-up and weatherproof the stalled £320m scheme after original contractor Carillion went bust.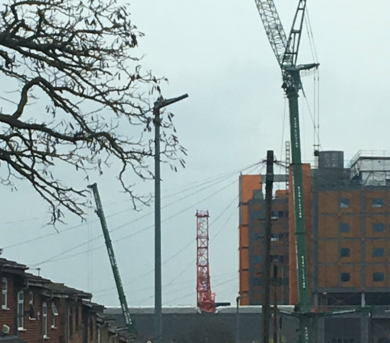 Just after the section of crane fell. Picture courtesy of Twitter/@Anthony17459340
A Balfour Beatty spokesperson said: "We can confirm that an incident took place on our Midland Metropolitan Hospital site on 9th April 2019 whereby a section of crane fell whilst being dismantled.
"The health and safety of the public and our workforce is always our primary concern and we can confirm that no one was hurt as a result of this incident.
"The surrounding area was immediately secured and works have now ceased on site while the crane section is safely removed, after which works will resume.
"An investigation is on-going into the cause and therefore it would be inappropriate to comment further at this time."