The developer said it remained confident about prospects in the Capital, where it now plans to focus all future development activity.
Landsec chief executive Robert Noel said: "We have added to our pipeline of development opportunities, with £3bn of schemes in London now on site, being prepared or in feasibility.
"With low levels of Grade A vacancy in London and occupiers increasingly looking to pre-let, we will be starting 0.5m sq ft of speculative development this year."
Announcing a year of revenue profit growth, Noel said Landsec was making good progress with the construction of its Deutsche Bank HQ building at 21 Moorfields in the City.
"In partnership with our suppliers, we've introduced innovations across design and construction to enhance the speed, efficiency, quality and environmental performance at 21 Moorfields and are applying what we learn to other schemes."
Three other major schemes will now go-ahead this year as the developer ramps up activity.
Demolition started last month at One Sherwood Street – a 144,000 sq ft mixed use scheme behind the famous Piccadilly Lights.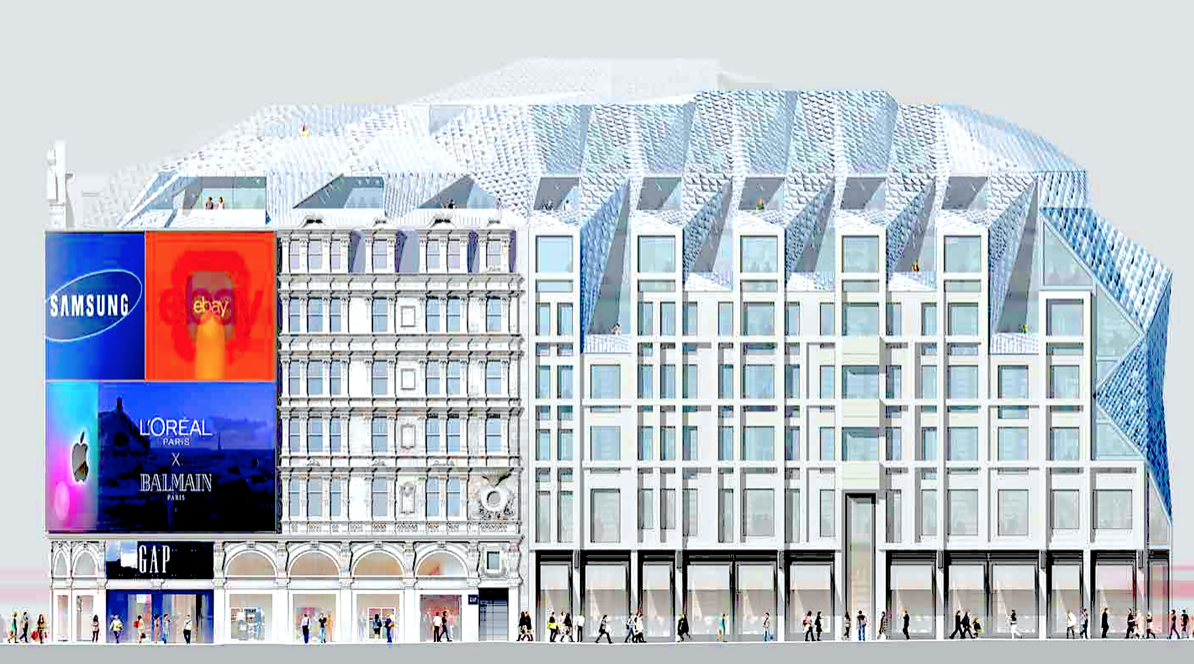 This will comprise offices, shops and a roof-top restaurant and will be completed by June 2022.
At its Nova East site in Victoria, contractor blu-3 (UK) has started enabling works and piling is expected to start in July.
Landsec is simplifying the design and structure and increasing the consented floor area by 19%.
In Southwark at 105 Sumner Street, the developer has consent for two buildings totalling 131,000 sq ft and will start on site in October with completion in early 2022.
Planning applications are also now being prepared for four other schemes: Portland House; Red Lion Court; Finchley Road; and Shepherd's Bush.
At Portland House, SW1, Landsec has dropped plans for a complete redevelopment in favour of a 401,000 sq ft remodelling and extension of the existing building.
A planning application will be lodged in June, aiming to start on site in April next year, when the current leases expire.
At Red Lion Court on the south bank of the River Thames in SE1, Landsec is working up plans for 324,000 sq ft of offices and new public riverside space.
During the year Landsec also acquired a 1.6-acre site at 25 Lavington Street, SE1.
Outside central London, the developer has concluded feasibility studies for residential-focused, mixed-use developments at Shepherds Bush, W12 and Finchley Road, NW3.
These will comprise around 1,700 new homes, many of which will be retained as homes for rent. Planning applications will be submitted during the course of this year.
In Lewisham, Landsec has started master planning eight acres of land for a new residential-led, mixed-use destination.
Noel added: "We are clear on what we have to do in the year ahead and beyond.
"Our targets focus on developments in London – both on-site and in the pipeline – together with further innovation in construction and active evolution of the products and services we offer and continued leadership on social and environmental sustainability."
In the year to March, Landsec reported a pre-tax loss of £123m, compared with a £43m loss in the prior year, due to a bigger fall in the value of retail assets. But revenue profit increased by £36m to £442m.