Under plans drawn up by the Douglas Oakervee-led panel reviewing the project, the route beyond the East Midlands to Leeds could be curtailed in an attempt to save £10bn, according to the Financial Times.
The panel is also exploring whether to ditch the last section of track to Euston station in central London while ending the line in West London at Old Oak Common.
Oakervee has been tasked with saving taxpayers money as the expected full cost of the project has soared from £62bn to £88bn at today's prices.
The first phase had been due to open at the end of 2026, but it could now be between 2028 and 2031 before the first trains run on the route.
The second phase to Manchester and Leeds was due to open in 2032-33, but that has been pushed back to 2035-2040.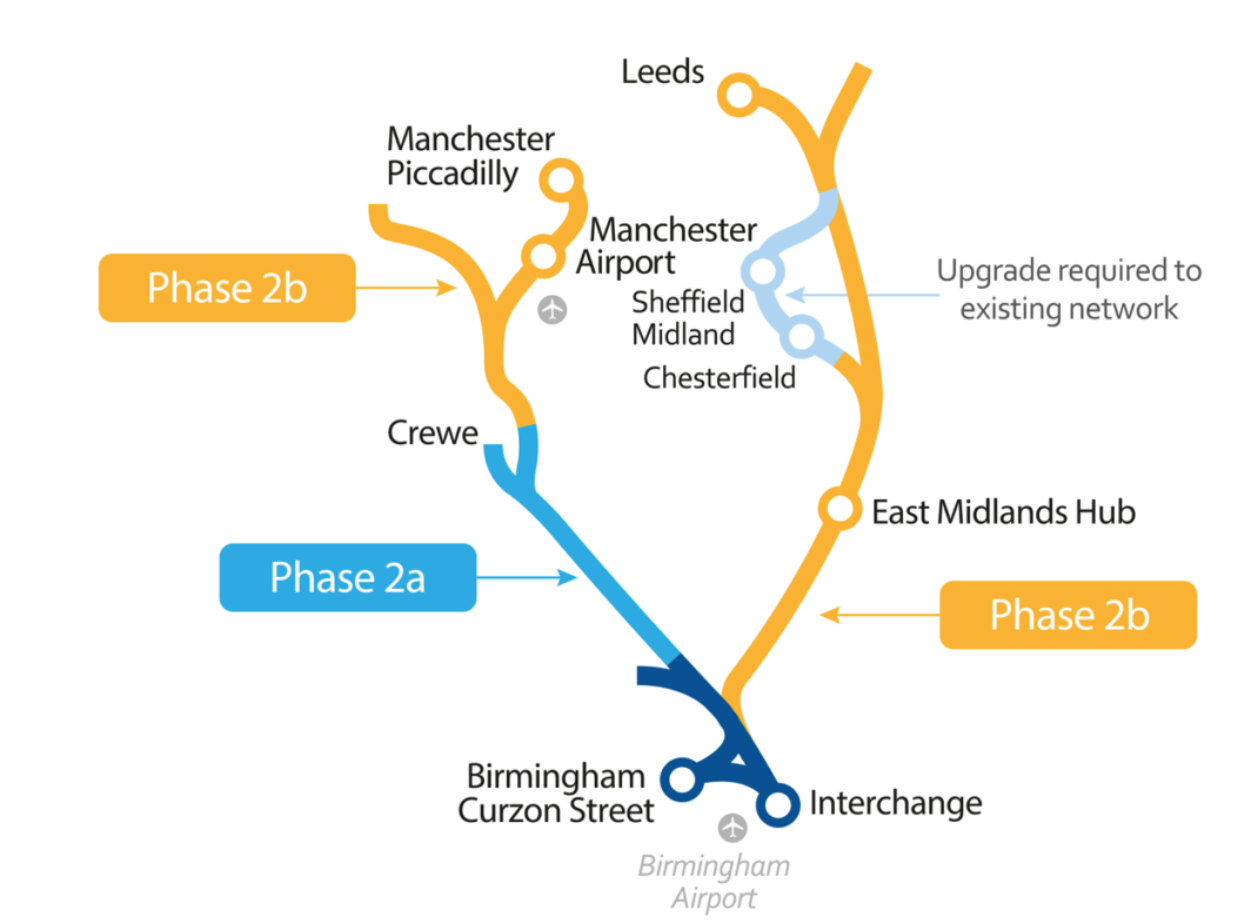 Leaks of proposals to raise the buffers on the eastern leg of the line were met with fierce opposition with politicians warning it would condemn the north and east to second-class status in the UK.
It would also torpedo 'game-changer' plans put to Government to connect the city centres of Birmingham and Nottingham and Leicester and Leeds via an East Midlands Hub station at Toton.
Labour MP for Leeds Central, Hilary Benn, said: "The government needs to understand that we will not accept HS2 to Leeds being cancelled. The north has been denied its fair share of transport investment for too long."
Judith Blake, the leader of city council and transport lead for the West Yorkshire Combined Authority, said there would be grave long-term consequences for the economy in the north and east.
A spokesperson for Transport for the North added:  "As indicated in the HS2 Phase 2b command paper, there is spare capacity on both the Western and Eastern legs of HS2 that could be used to deliver wider regional connectivity.
"It would therefore be a huge missed opportunity if the current ambition for HS2 and the benefits it could deliver for the North East of England are scaled back.
"Such a decision would be seen as out of touch with what northern leaders would expect as part of a truly 21st century pan-northern rail network.
"In Transport for the North's submission to the Oakervee Review we have asked that in any review of governance structures of HS2 that TfN is included on the HS2 Board so that the North has a direct say over future development and construction of the northern legs.
"This would better prevent decisions being taken that are not in the interests of the North of England."