The new stand, which replaces the existing Red Rose Suite, is set to feature a pitch-view suite, better members facilities, a heritage centre, ticket office and shop which will face directly on to Brian Statham Way.
It will take the capacity of Emirates Old Trafford to 26,700.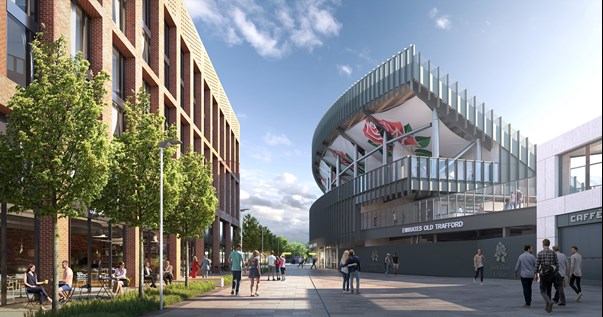 Also included in the Club's plans are an extension of the existing Hilton Garden Inn hotel.
The plans have been created alongside CHROMA Consulting, BDP, Marston and Grundy, BDP, Planit-IE, Virtual Planit, Gardiner & Theobald and Paul Butler Associates.
Lancashire Cricket Chairman David Hodgkiss said: "The new stand, which will replace the Red Rose Suite, will complete the redevelopment of Emirates Old Trafford which is now an award-winning, world-class and all-encompassing stadium.
"Lancashire Cricket Club is committed to ensuring Emirates Old Trafford is one of the best places in the world to watch and play cricket, both at a domestic and international level and the new stand, which includes a pitch-view suite, will further enhance the facilities for Lancashire Members.
"It will transform that area of the ground and will make Emirates Old Trafford one of the largest cricket stadiums in the country."
The development is part of the wider Civic Quarter masterplan, which covers several prominent sites including the area around the cricket ground, Trafford town hall, and UA92.