The institute will sit at the centre of the Advanced Manufacturing Innovation District Scotland next to Glasgow Airport.
It is where research, industry and the public sector will work together to transform skills, productivity and innovation to attract investment and make Scotland a global leader in advanced manufacturing.
The carbon neutral building will include a skills academy alongside a fully digitalised factory of the future and collaboration hub for manufacturers of all sizes.
Glasgow-based HLM Architects is leading the NMIS design team, which also includes Waterman Civil & Structural Engineers, Davie + McCulloch Building Services Engineers and Robinson Low Francis LLP Cost Mangers.
The application will now be considered by Renfrewshire Council.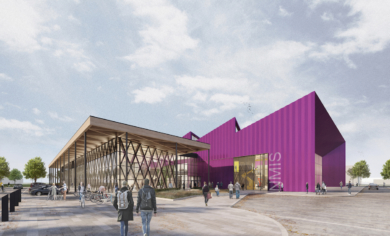 Ross Barrett, Associate HLM, said: "Our thoughtful design creates an innovative, flexible and collaborative environment where knowledge and creativity can be shared.
"Inspired by the materiality and colours of the Scottish landscape, this bold sustainable building sets out to create a unique character and identity for NMIS which will inspire and attract industry partners and academics alike."