FP McCann has teamed up with Ulster University to test how its precast concrete sandwich panels perform in blazes.
The move follows the continuing controversy and confusion over cladding standards in the wake of the Grenfell disaster.
The FP McCann precast concrete panels containing an internal "sandwich" layer of PIR insulation were subjected to fire tests exposing them to temperatures in excess of 1000°C.
Tests showed "the insulated precast sandwich panels contained the fire while maintaining their structural integrity despite being exposed to multiple fire scenarios.
"Although explosive spalling on the exposed surface of concrete was observed during the tests, this spalling was relatively small and would have required limited remedial work.
"During the tests, the PIR insulation core of the sandwich panels remained encased within the layers of the precast concrete.
"The outer concrete layers, due to their low thermal conductivity, protected the PIR insulation core from direct exposure to heat and flames. As a result, the PIR insulation core remained unharmed."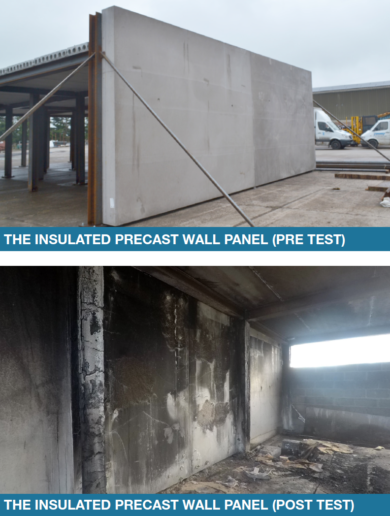 FP McCann is now encouraging other manufacturers to carry-out their own tests.
The company said: "The aim of this research is to ensure the safety of occupants and properties where the insulated precast sandwich panels are used for building and construction purposes.
"FP McCann's aim is to build a better and a safer future and would encourage other manufacturers to follow a similar testing schedule and incorporate real scenario fire testing."