Clean energy developer Pale Blue Dot is behind the Acorn Carbon Capture Scheme and hydrogen project at St Fergus gas terminal.
The project ultimately aims to convert North Sea natural gas into clean hydrogen while capturing and storing the CO2. It will take advantage of existing oil and gas infrastructure.
The first phase of the Acorn project will focus on the carbon capture side.
Costain will deliver concept design and front-end engineering design support for the project to repurpose Shell's Goldeneye pipeline and field to capture CO2 emissions.
It makes use of some of the existing CO2 emissions at the St Fergus gas terminal (around 340,000 tonnes), in order to commission a very large scale CO2 transport and storage infrastructure that can support much larger future volumes.
Once this detailed engineering is complete Pale Blue Dot hopes to reach a final investment decision in late 2021.
Existing assets to be used for carbon capture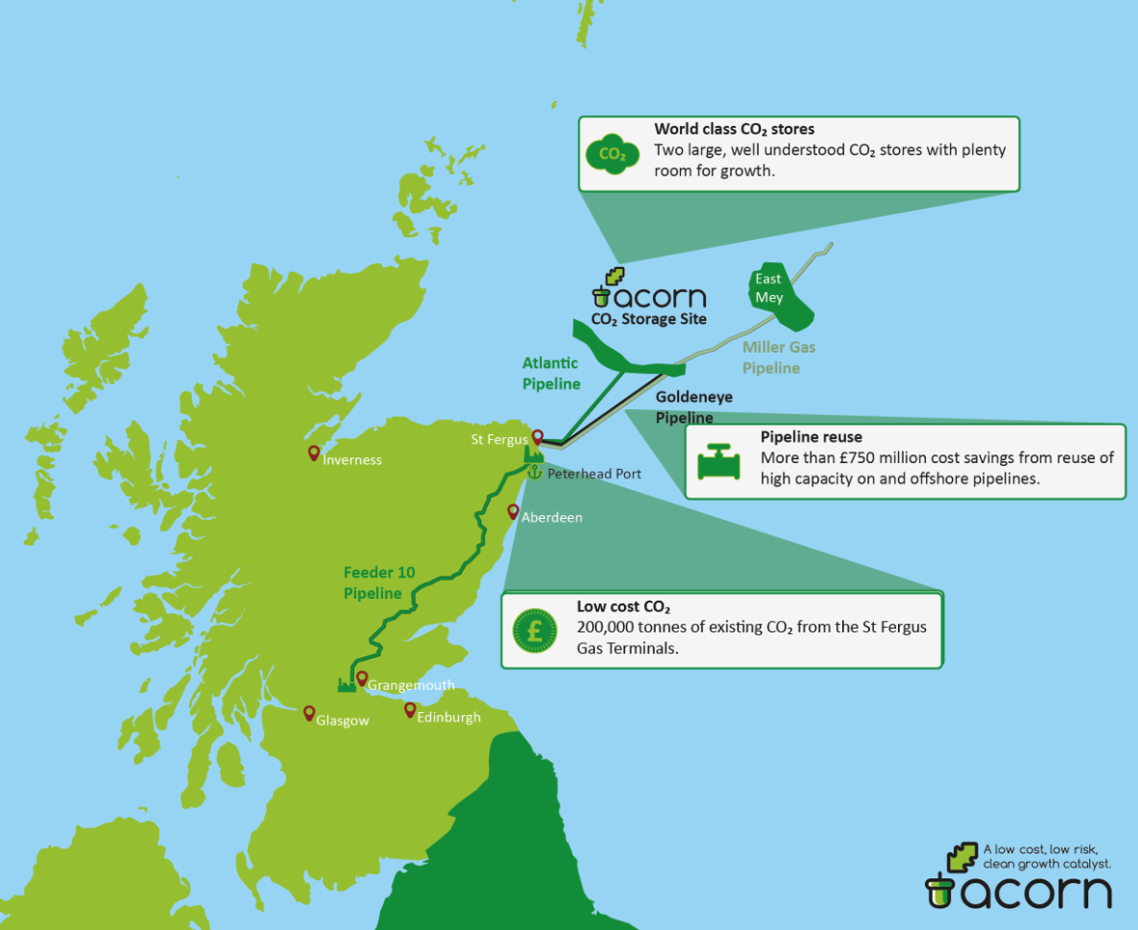 The reuse of existing pipelines into the North Sea will save up to £750m on the overall Acorn project.
The second phase will see full-scale production of hydrogen at a St Fergus production hub with waste carbon dioxide pumped back into the depleted Goldeneye gas field.
Hydrogen would be used in transport applications, and in the gas grid to decarbonise heating in our homes and industries.
Hydrogen from North Sea gas plan
Rob Phillips, energy sector director, Costain, said: "Hydrogen and CCS play a fundamental role in decarbonising gas for domestic and industrial heating, powering industry and large-scale transport.
"Large-scale and relatively cost-effective carbon capture at the source of production is key to unlocking this potential and is one of the many low carbon solutions Costain is progressing as part of leading the decarbonisation of the UK footprint and driving clean growth across the UK.
"This contract builds on work Costain has previously delivered on the scheme and extends our relationship with Pale Blue Dot Energy.
"The Acorn CCS project and other hydrogen initiatives we are involved with such as the North West Hydrogen Alliance and pioneering the deblending of hydrogen, will help enable CO2 capture and hydrogen production in the immediate term and pave the way for a hydrogen economy, bringing the UK much closer to a sustainable energy future."