It is the latest project on the famous site by the London based restoration company.
Head of Buildings Mick Figg said: "Works were carried out two years ago on the courtyard façades and the results were tremendous, so we've now engaged in a further programme of works with Thomann-Hanry to complete the facades here at Somerset House".
Somerset House was originally designed as one of London's first public buildings to exclusively house government and educational institutions, such as the Royal Academy and the Society of Antiquaries.
Today, this iconic landmark is an important creative hub – and home to some of the city's most celebrated names in the arts, from the National Youth Orchestra and the British Fashion Council to the Courtauld Gallery and Institute.
As a highly sought-after venue for summer event hire, it was necessary for works to take place during the winter which, as it turned out, included three massive storms.
Under such inclement conditions, the advantages of façade gommage being a non-scaffold system were even more self evident than usual.
The non-scaffold approach was also key in the decision to appoint Thomann-Hanry to undertake the works.
Figg said: "Not having to use scaffold on the building really influenced our decision to go with Thomann-Hanry. It makes the works really flexible compared to having a big scaffold.
"We always have to look at new technologies, especially in the conservation world. Façade gommage is different from the traditional methods and I think it's very important, like the rest of the world, that we do move onto new technologies."
The cleaning phase of the project took place over some 12 weeks from late autumn into the early new year. Carried out from mobile hydraulic platforms, the company's patented process is ideally suited to the delicate restoration of historical structures.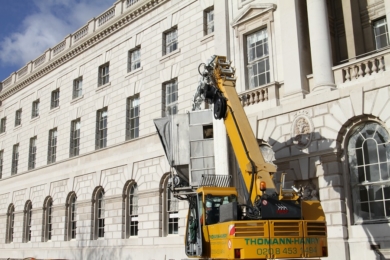 Projecting fine powders under compressed air across – rather than against – all surfaces, façade gommage gently eases off decades of accumulated dirt, with residues lifted away for removal and recycling.
As all machinery had to be lifted from ground to terrace level, setting up for the project presented a series of interesting logistical challenges. However, with extensive experience of working in difficult access sites, the Thomann-Hanry team were able to have their equipment up and running quickly and expediently.
Once the façade gommage works were complete, attention turned to repair and redecoration of Somerset House's imposing windows, characterised by monumental pediments and straight heads.
The company's team of expert painters, decorators, stoneworkers and banker masons carried out meticulous repair and replacement work on all window, façade and baluster masonry.
Thomann-Hanry are scheduled to return later in the year to complete the process, including cleaning and restoration works on the ground floor area of the building.