According to the latest CITB Construction Skills Network report for 2021-25, the workforce is predicted to shrink by between 10% and 14%, as demand drops for commercial building and private housing.
According to the report, industry employment will not rebound to pre-Covid levels until around 2025.
The industry's training body is now calling for urgent Government action to ensure that this loss of skilled workers does not hold industry back from delivering on its pipeline of work for infrastructure, new homes and zero-carbon.
The training body is calling on Government to make construction a priority sector in the new National Skills Fund.
This would spur the creation of a network of onsite construction hubs on the largest infrastructure and housing projects across the country.
CITB also wants Apprenticeship Levy reforms to allow large employers to pass on surplus Levy funds in bulk to smaller companies in the supply chain.
It also want to see a new traineeship for construction launched in early 2021, based on current work being undertaken by Government, CITB, the Association of Colleges and British Association of Construction Heads.
The forthcoming FE White Paper could help to shape local training provision to meet future employer skills needs and drive growth.
GDP forecast produced with Experian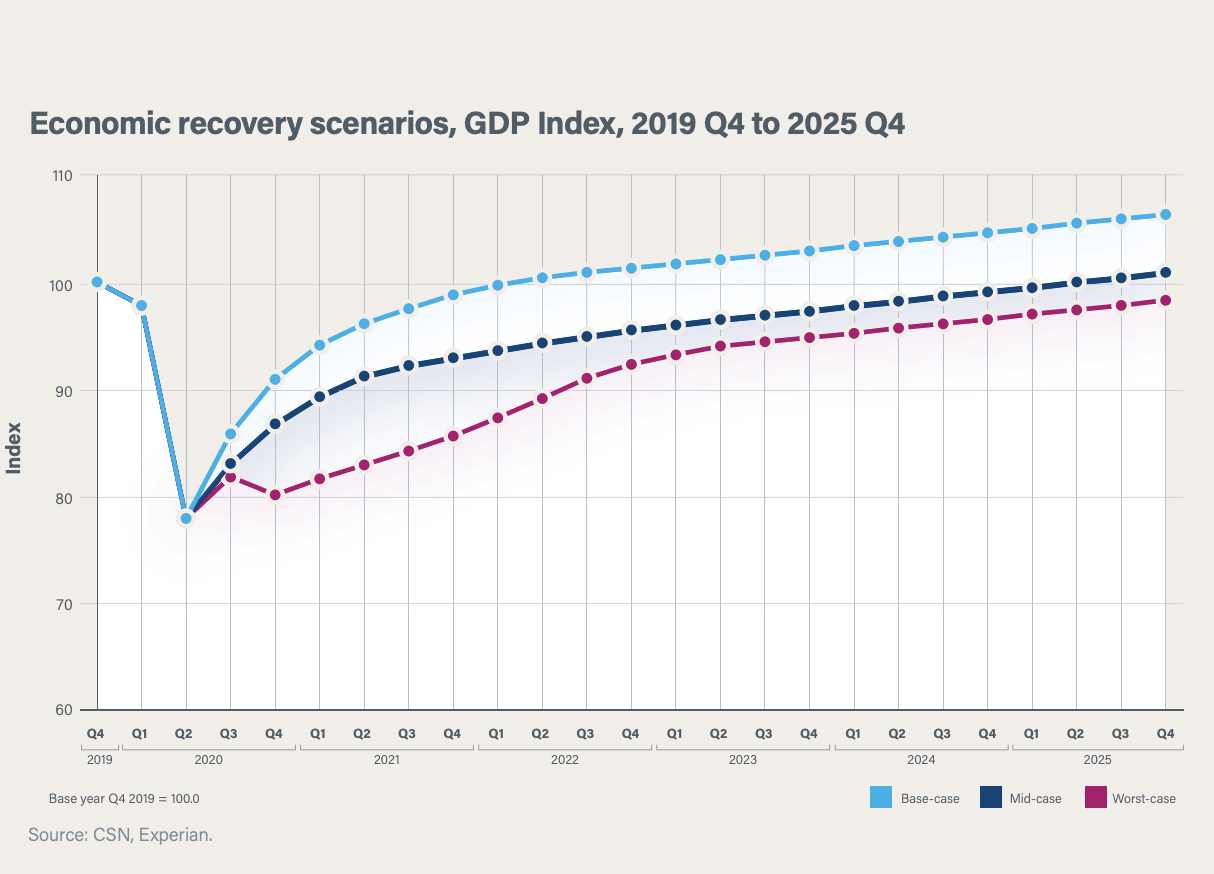 Steve Radley, CITB Policy Director, said: "This forecast shows that a recovery will be slower than previously hoped but that construction will grow and create more jobs over the next five years.
"This will create skills challenges and it is vital that CITB, industry and government work together to meet them.
"CITB is investing levy funds to make it easier for people to join construction, to place people who have lost their jobs, to help learners complete their apprenticeships and to carry out essential training and retraining.
"Government can play a key role and providing certainty on its infrastructure pipeline, working with industry to help more college students into construction jobs and apprenticeship and prioritising construction in the new National Skills Fund to help it recruit and train fresh talent. It should also look at reforming the Apprenticeship Levy to allow employers to pass on unspent vouchers in bulk."