Both machines are being sold as clean air and low noise alternatives and JCB has extended operating times launching a new universal standlone charger unit for sites and hire depots.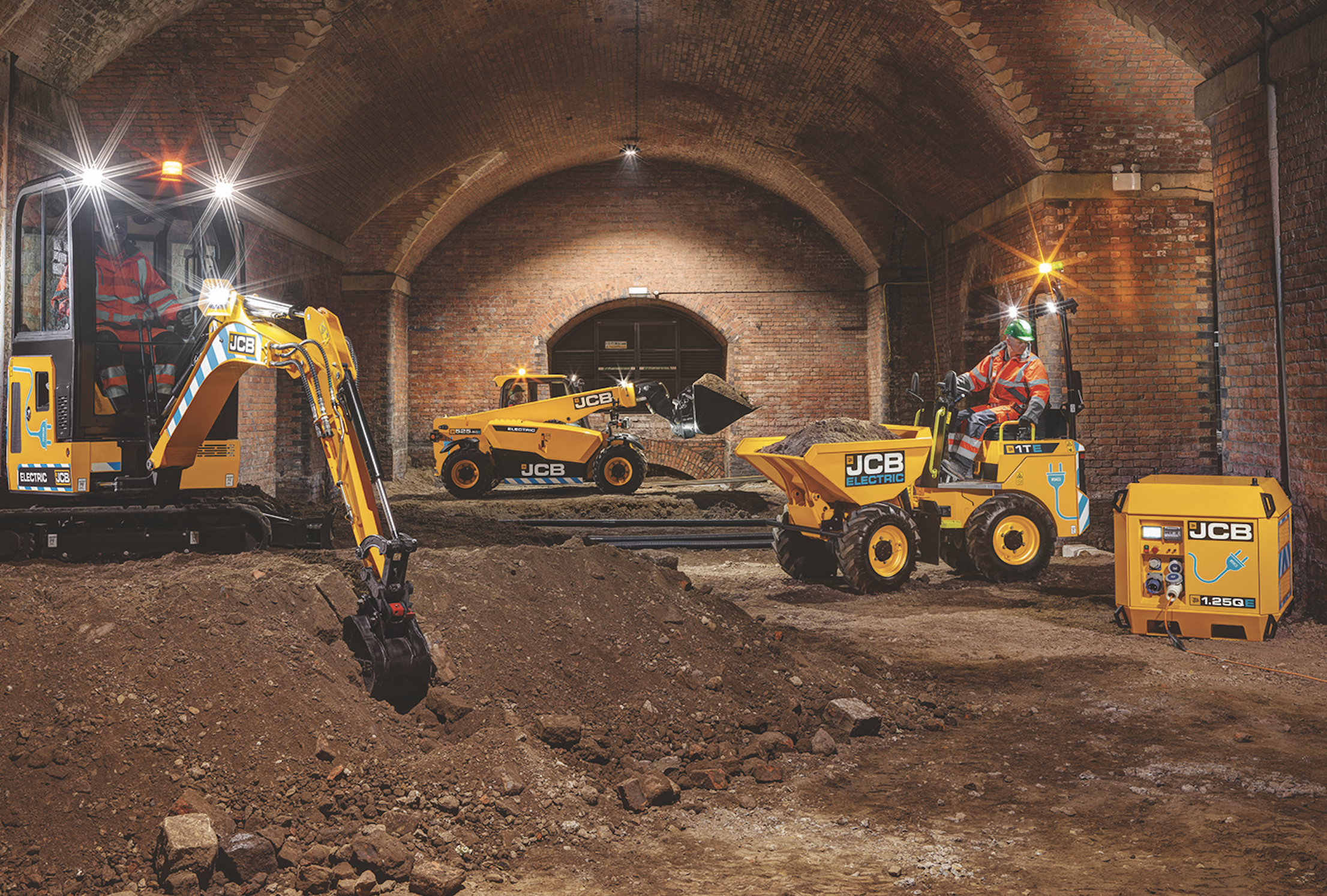 The unit is capable of recharging the 19C-1E electric mini excavator from zero charge to full in just 2.5 hours and can be used to top-up machines during lunch breaks or when they are not in use.
With no diesel engine to service, maintenance requirements are also greatly reduced, boosting uptime and availability.
JCB's full-electric version of the popular Loadall is designed to deliver the same performance as the conventional diesel-powered machine.
The six metre/2.5 tonne compact telehandler machine uses two proven electric motors, one for the driveline and the second to power the hydraulic system.
The telehandler is capable of recharging the battery in 8 hours using a standard 240V, 16A electrical supply or topped up during breaks using the fast charger in as little as 35 minutes.
JCB Chief Innovation Officer Tim Burnhope: "JCB has taken a pioneering lead in the move to electric propulsion in construction, agricultural and industrial machinery, having successfully introduced the 19C-1E mini excavator"
"As world market leader for telescopic handlers, the launch of the JCB 525-60E Loadall takes equipment electrification further, offering a zero emissions load handling solution with no compromise in performance or productivity. We are very excited about the prospects for this machine."
Hirer Bennie Equipment bought one of the new electric telehandlers within minutes of the launch.
Jason McNally, Manging Director at Bennie Equipment said: "Many companies see lithium-ion powered equipment as the future. We have seen demand continue to grow as many of our customers have already taken fleets of lithium-ion powered forklift trucks.
"All feedback from our customers has been positive and we are seeing many more enquiries on how to change from gas, diesel & even electric (Lead Acid) powered vehicles.
"I think the uptake for lithium-ion started very slowly due to the cost Vs alternative power options on the market, but the industry now seems to be looking at things differently and realising the lifetime costs of equipment rather than just headline pricing.
"We are absolutely thrilled to be adding the new JCB 525-60E to our hire fleet.
"Our new JCB 525-60E will be available to hire throughout the U.K. from late January 2021 and we hope that Bennie Equipment can help our customers operate and deliver projects in a much greener way that benefits the environment."