Remediation contractor Provectus is at work on the site while Berkeley is out to tender for groundworks and concrete frame contractors on the first phases.
At its peak, more than 1,000 construction workers will be on site – with an estimated 8,000 jobs created in total during the construction process and over 250 apprenticeships.
The first phase of construction work at the 26-acre site is focused on Evergreen Point, which will provide 205 studio, one-, two- and three-bedroom apartments.
Construction will also begin on a new entrance for West Ham station, due to complete in 2023, the development's community hub and landscaping around Evergreen Point.
Berkeley has imposed strict sustainability goals on contractors.
At least 95% of the waste generated will be recycled, while 100% of timber will be sourced from sustainably managed forests.
On site, remediation will also enable over 40,000m3 of soil to be reused on site rather than sent to landfill.
All the carbon emissions generated from onsite construction will be monitored and offset via verified carbon offsetting schemes, to enable the site to be carbon positive.
Berkeley is also aiming to use modular construction and off-site solutions where possible, in order to make the build programme as efficient as it can be.
The project also involves building a new community centre, a retail and leisure quarter and a new base for the East London Science School.
Berkeley is also working together with housing association Peabody to deliver 40% affordable housing, including shared ownership opportunities.
Justin Tibaldi, divisional managing director at Berkeley Homes (Capital), said: "Our approach is to adopt best practice every step of the way and we aim to be world-class when it comes to sustainability, delivering this vital scheme in a way which is carbon positive, as well as providing a development which brings lasting community benefits."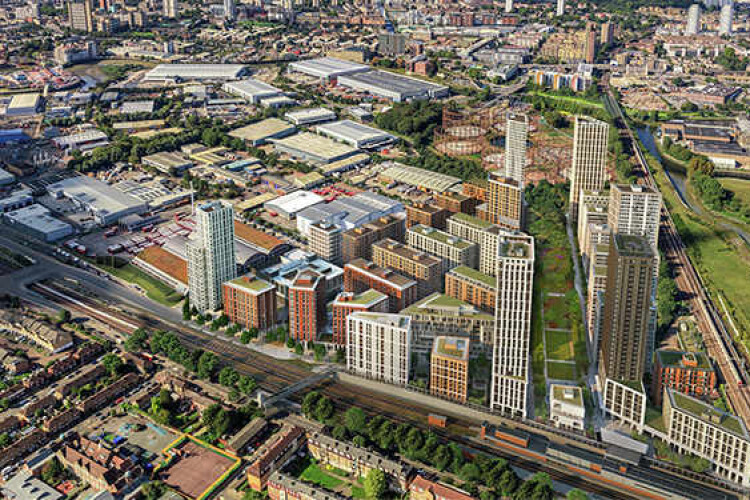 The first homes, at Evergreen Point, are due to be completed and ready for occupation by 2024.