Highways England is now finalising the detailed design with Galliford Try for the delayed project and currently hopes to start work on site later this year.
The announcement comes just two months after the go-ahead for another congestion-busting scheme further west along the A303 between Amesbury and Berwick Down including a 1.8-mile tunnel under Stonehenge.
Work is scheduled to be complete by 2023-24 and will be carried out parallel to the A303 Stonehenge Tunnel project.
Together the upgrades will unlock economic growth and improve journey times and reliability between the M3 and M5.
Alongside the A303, Highways England is also moving forward with the A358 Taunton to Southfields scheme which promises dual carriageway.
Essential to the A303 corridor, the scheme has been allocated to Taylor Woodrow, which is progressing work on the preliminary design and initial survey work ahead of a public consultation.
A303 Sparkford to Ilchester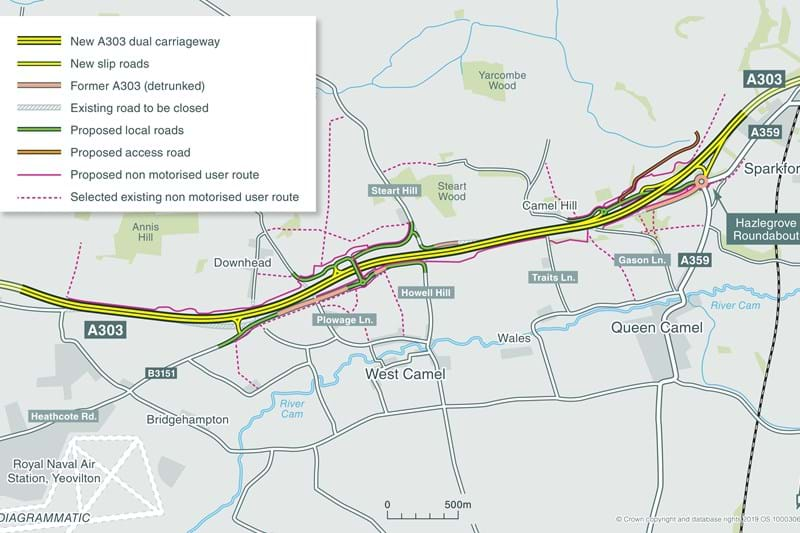 The new dualled section will start east of Podimore Roundabout, follow the alignment of the existing A303 to Downhead, and then move north of the existing A303 single carriageway, allowing the existing road to be kept for use as a local road in this section.
The route will rise up West Camel Hill before crossing over the existing A303 at the junction.
The final section of the route bypasses the existing Hazlegrove Roundabout to the north before tying into the existing A303 Sparkford Bypass.