The University blamed both Covid and Brexit's impact on the supply chain as well revisiting designs to introduce greater flexibility and future-proofing spaces to be more adaptable.
As a result of recalibrating the Temple Quarter Enterprise Campus programme, main construction of the Cattle Market Road site will start in the summer of 2022 with the anticipated opening of the new campus during the second half of 2025.
Adjacent to the Cattle Market Road site, the University is working to open new research facilities in the existing buildings on Avon Street early in 2022.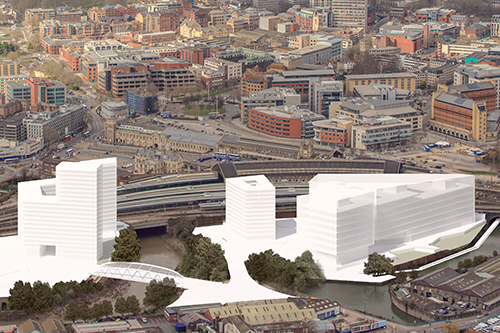 Site enabling works as part of the new campus development have continued over the past year in line with Government guidance.
The Temple Quarter Enterprise Campus will be home to 3,000 students and 800 university staff as well as provide accommodation for nearly 100 students in a cluster of high rise blocks.
As part of the campus rethink the University is also exploring the possibility of relocating some specialist facilities and supporting hub spaces into the two stone buildings on Avon Street, previously the Vauxhall Drive workshop, which had formed part of longer term development plans for the area.
The University has also just submitted outline planning for the Wales and West Utilities and Vauxhall and Kawasaki Drive sites on Avon Street and Gas Lane.
Barra Mac Ruairí, the University's Chief Property Officer, said: "We are committed to Temple Quarter. We have taken on a challenging site in a challenging time with a scheme which is unique in terms of its activity.
"A project of this scale and ambition comes with a range of complexities, which have been exacerbated by the ongoing pandemic. However, we have pushed forward and will use this time to recalibrate and make the project even stronger and add more resilience."
He added: "Our ambition is clear but any delay is disappointing, our vision for the Temple Quarter Enterprise Campus has not changed and we remain 100 per cent committed to contribute to the research, innovation and skills required to drive the city and region's post-COVID recovery and help regenerate and deliver the future vision for Temple Quarter and St Philip's Marsh."