The drone pilot was located in a central control room fifty miles away from the development at Midenhurst.
During the flight, the drone captured video and imagery of structural details on the site. It was one of the first live tests of its kind in the UK to prove the value of Beyond Visual Line of Sight (BVLOS) technology in construction.
Pilots working in a central control room without the need to physically see the drones drive down costs and allow long distance surveys.
The technology was developed by start-up sees.ai which has gained UK-first approval by the Civil Aviation Authority (CAA) to trial a concept for routine BVLOS operations in closed industrial and urban areas.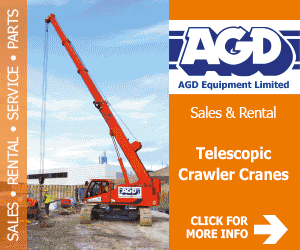 Once the system has been proved sees.ai is looking to deploy it at enterprise scale across UK infrastructure, energy networks, roads, railways and the emergency services.
CEO, John McKenna said: "The successful trials undertaken with Skanska this week are a major step forward in demonstrating the value of Beyond Visual Line of Sight drone technology.
"We are excited by the results of the trial and what they signal about the acceleration towards a future where drones fly autonomously at scale inside our industrial sites, suburbs and cities." Peter Cater, Development Manager, Skanska added: "We were invited to carry out these trials because of our use and knowledge of drone capability and we were very excited to be the first company in the construction industry to do this.
"The trials have benefited everyone involved: sees.ai get to test their equipment and remote use of the drones and we get access to accurate, real-time data on our construction activities which benefits us and our customer.
"Projects like this – at the forefront of innovation – go to show what an exciting industry construction is to be involved in.
"We are always looking for innovative ways of working, ways to be more sustainable so we can find better solutions for our customers. These trials are just one small part of our digital transformation journey."