The Nottingham contractor's pioneering system, trade marked as Steel Bricks™, sandwiches concrete between interconnected steel boxes creating walls with added strength.
Use of these factory-made steel bricks could pave the way for large sections of nuclear power stations to be built off-site and has been seized upon by global engineering giant GE Hitachi Nuclear Energy where it is looking at the system for next-generation Small Modular Reactors.
The engineering giant believes the system, which has been likened to high-tech LEGO pieces, could significantly reduce the labour required on site.
Now the US government is putting up $5.8 m funding further development research into Steel Bricks and two other technologies to reduce the cost of new nuclear builds by more than 10%.
The initial phase will focus on technology development and preparation for a small-scale demonstration.
Pending the successful completion of the first phase and future appropriated funds, a second phase is planned to carry out the demonstration within three years of this award.
For Caunton Engineering, the US funding endorsement of the Steel Bricks system presents a significant opportunity for the firm to benefit from advanced nuclear design – especially in the potentially lucrative Small Modular Reactor global market.  
Simon Bingham, Caunton executive chairman, said: "Our 10-year collaboration with Modular Walling Systems to create the Steel Bricks™ system has established a 'first of a kind' concept in the fast-emerging world of steel composite construction. 
"The system provides not just the walls and suspended floors or roofs in steel composite, but most importantly a basemat.
"This takes away the need for conventional foundations, eliminating the traditional Achilles' heel of this form of construction which are the weak points of the basemat to wall connection.
"Many attempts have been made during the past 25 years to devise simple, safe and rapid fabrication methods to internally connect steel faceplates. But most have lacked commercial application due to being too expensive and labour intensive."
He added: "We can now successfully deliver a solution which is technologically proficient whilst providing significant cost and time-saving benefits. 
"This could mark a major leap forward for advanced nuclear construction in its global drive to become a cost-effective, green and sustainable alternative to carbon-based energy provision."
Steel Bricks system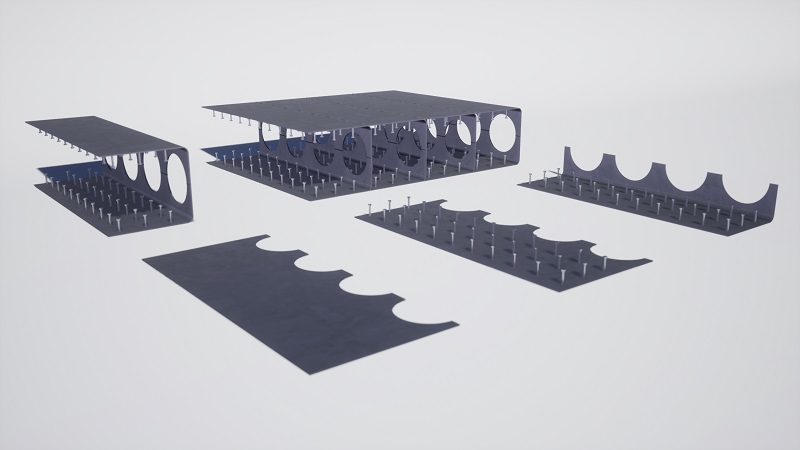 The Steel Bricks system is made by folding two pre-cut steel plates into 'L' shaped sections, which are joined to form the 'U' shape. The U-shaped Steel Bricks can be welded together, end-to-end and vertically to create larger modules. No tie bars or reinforcing bars are required, as these are replaced by the diaphragm, which is integral to the system.