Trade bodies warn the plunge in numbers of experienced skilled workers mainly from this key age profile now threatens the industry's ability to deliver the Government's bedrock build back better plan.
Fresh research into official employment figures reveals a serious structural change in the workforce's largest age group, which employers are heavily reliant upon to deliver major infrastructure, new housing and future green retrofit projects.
According to findings compiled by the Construction Products Association, 223,000 workers have vanished from industry over two years since summer 2019.
Nearly half of this total number have come from the skilled 45-55 age group, which joined the industry during the booming late 1980s and represented the bulk age demographic in the workforce.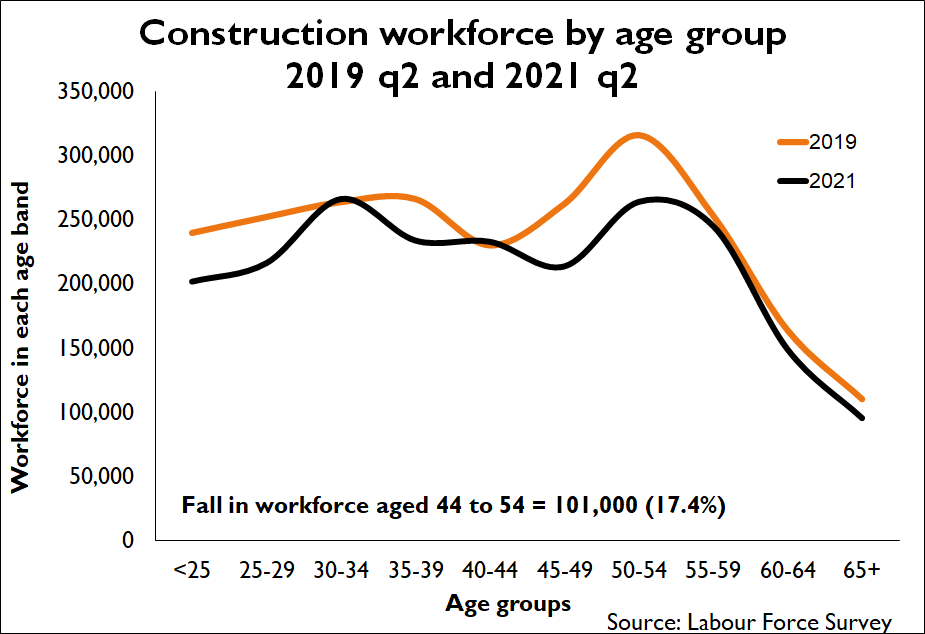 Noble Francis, economics director at the CPA, said: "This aging workforce demographic has been a concern for some time but was expected to impact in 10-15 years time as people came up for retirement.
"Like many other things, the pandemic seems to have accelerated this and plunged construction into a deepening skills crisis."
"People may still come back, but it looks like many have opted to take early retirement or work in other industries."
The CPA findings come as the CITB skills body released its own workforce report findings warning that 25,000 migrant workers have left construction in the post Brexit and pandemic upheaval.
Trade bodies are warning that construction is being hit by a perfect storm – a big drop in younger skilled workers from the EU and a faster than expected loss of older more experienced workers born in the UK.
Francis said the data has to be judged in the context of possible distortions in data collection caused by factors like furlough and difficulties with data collection during the pandemic.
"We may need to wait six to 12 months to see whether these workforce changes are permanent," he warned.
CITB's annual migration report has revealed that the number of migrant workers in construction continues to fall significantly.
Over the last three years, the number of migrants working in construction has fallen by 15%, from over 326,000 to just 280,000, the equivalent of one in every seven migrant workers leaving the sector.
In London, which has the highest concentration of migrant construction workers in the UK – where half of the workforce are migrant workers – the number fell by 15%, from 145,000 in 2019, to 125,000 in 2020.
The research found that many employers are simply not engaging with the points based immigration system licence scheme to enable them to hire non-UK born workers, particularly SMEs.
In addition, several large and medium-sized employers were concerned that some skilled trades were not accessible through the skilled worker visa including dryliners, asbestos workers and insulators.
One contractor in the south east said: "The impact will be that I can't take on as many jobs and I've got to let my clients down. I've already turned down three jobs this week, and we never turn away work…I think that's going to be the reality going forward."
Steve Radley, Director of Policy at CITB, said: "The transition out of the EU and into a new immigration system was always going to be difficult and the pandemic and interrupted supplies of materials has intensified skills and cost pressures.
"We know that developing homegrown talent will be at the heart of addressing these skills challenges. But for many, their struggle to deliver on the current workloads is hampering their ability to free up time to invest in training just when it's most needed."
Shortages are hitting the civils sector particularly hard, with some anecdotal evidence suggesting that plant operators are quitting the industry to take up driving jobs in other sectors.
One regional plant and civils specialist told the Enquirer: "It's got so bad we can't get the work done. The work's alright there but we can't get the people to do it.
"With materials shortages, higher prices, reverse VAT and higher indemnity costs, its just not worth it anymore. I'm seriously thinking of packing it in."
Alasdair Reisner, chief executive of civil engineering trade body CECA, said: "Our members continue to experience very challenging conditions for recruitment and retention of workers.
"The likely outcome of this will be that those areas that have historically had higher levels of migrant labour, and generally higher salaries, such as London and the South East, will now pull resource from the rest of the country, exacerbating skills difficulties nationwide."
Suzannah Nichol, chief executive of Build UK, said: "As construction looks to lead the economic recovery, the government is rightly investing in training and reskilling the UK workforce whilst the industry develops better routes for new entrants. We welcomed the recent commitments in the Autumn Budget to improve skills and recruit talent, but these will all take time to come to fruition and we are being asked to build now, not in 12 months.
"To ensure the industry can continue to deliver the ambitious programme of infrastructure investment and development, it is vital that we have a Points-Based Immigration System that can respond rapidly to changing pressures, with a clear path for the industry to raise these with government."