Construction activity across Birmingham, Leeds and Manchester rose markedly with 65 new projects beginning construction last year, up from 47 in 2020, according to Deloitte's Regional Crane Survey.
Leeds led the way with both record growth in residential, student and office schemes.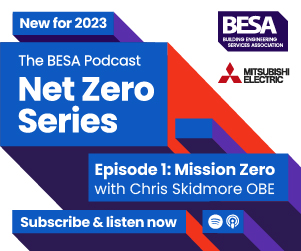 The construction of new residential development was strong in Manchester and Birmingham last year, while hitting record levels in Leeds. Across the three cities, the construction of 19,763 new homes was underway in 2021 – the second highest on record.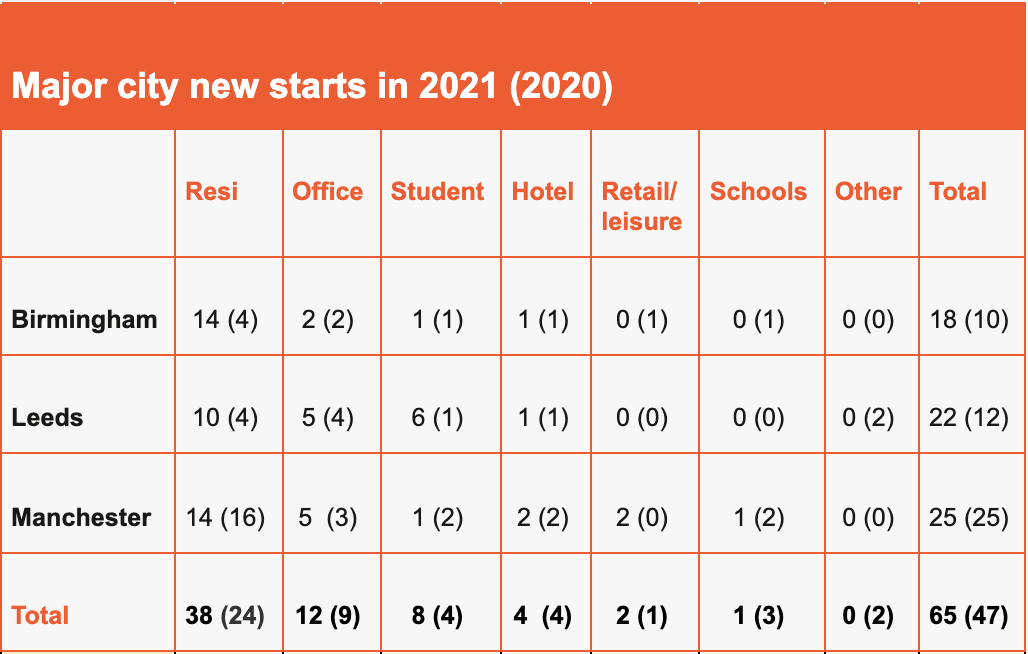 Project threshold: office: +25,000 sq ft; hotel: +35 beds; retail/leisure: 10,000 sq ft; residential: 25 units; education: +10,000 sq ft
Similar to residential growth trends in Manchester since 2014, Birmingham and Leeds have now also gained significant traction in new build to rent projects over successive survey years.
Once booming Manchester is showing a decline from high construction levels across all sectors. But over 2.8m sq ft of office floor space is planned to commence construction over the next few years offering a bright outlook for the commercial sector.
The Survey monitors construction activity across a range of sectors including offices, residential, hotels, retail, education and student housing – providing a barometer of developer sentiment and future supply.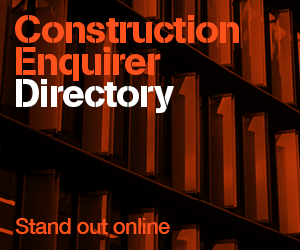 Daniel Barlow, managing partner for regional markets at Deloitte, said: "It's encouraging to see overall construction activity remaining resilient across regional cities, despite a number of challenges.
"Regional cities are gearing up for a good pipeline of development for 2022. There is expected to be an uplift in construction across all sectors, as the levelling up agenda progresses, with further investment in centres."
Vital city statistics
---
Birmingham:
Development in the city was a mixed picture dependent on sector, with residential development remaining strong and over 750,000 ft of new office space delivered to market in 2021.
18 new projects broke ground in 2021, up from 10 in 2020
There were 14 new resi starts during 2021, up from five the year before.
The amount of office space under construction (616,661 sq ft) has halved compared to the 1.25m sq ft recorded at year end 2020. However, delivery was the second highest on record with 751,664 sq ft brought to market during 2021, much of which was pre-let.
After a record 1,458 beds completing in 2020, the amount of purpose-built student accommodation is subdued, with 337 bedspaces under construction and 399 brought to market during 2021.
Leeds:
Over all sectors, Leeds saw 22 total new starts in 2021 – the second highest number of new starts in the history of the survey.
2021 saw a record 10 new residential developments starting construction, which will deliver 2,267 new homes. This represents an increase of 210% when compared with the 732 new residential units that started construction in 2020.
Despite only 82,389 sq ft of new office space being delivered in 2021, Leeds saw five new starts in the sector. This contributed to over 860,000 sq ft of space under construction in 2021, across seven sites – well above the survey's four-year average of 704,100 sq ft.
The survey reports a surge in the construction of student accommodation, with six new starts and 2,226 bedspaces currently under construction.
The retail, leisure and hotel sectors were subdued in 2021. There were no retail or leisure new starts, and one hotel new start.
Manchester:
While the overall number of new starts in 2021 (25) remains consistent with 2020, there was an overall reduction of volume of new homes, offices and hotels under construction in Manchester and Salford.
5,549 new homes were delivered in 2021, after 4,914 new homes were delivered in 2020, following consecutive record-breaking years. 10,717 residential properties remain under construction in the survey area across 40 development sites.
Commercial office supply was constrained compared to typical years (537,475 sq ft per annum between 2014-2021), with four commercial office schemes completing in 2021 and delivering just 404,584 sq ft to market. 43% of 1.34 million sq ft under construction is currently pre-let, providing further short-term constraints on supply for potential occupiers.
938,876 sq ft of new education and research floorspace was completed in 2021, which is the largest amount delivered on record and supported by the opening of the Manchester Engineering Campus. A further 506,018 sq ft remains under construction in this sector.