In its latest forecast, the Construction Products Association now believes output will rise 3.4% and 5.2% this year and next. That is well ahead of the 2.7% and 4.6% forecast just three months ago.
A stronger recovery in London office projects and larger retail schemes coming through the pipeline are expected to fuel faster growth.
This will build on rises in private house building and infrastructure work that will deliver strong growth for at least four years.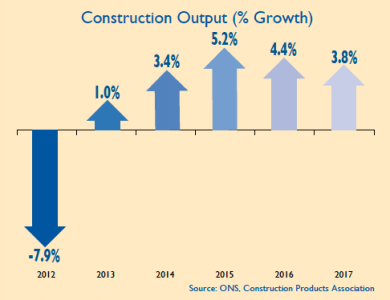 Dr Noble Francis, Economics Director of the Association, said: "The construction industry is in a very different place to just one year earlier, when output fell to a level 15.4% below its pre-recession peak.
"Output in the largest construction sector, private commercial, fell 33.1% between 2008 and 2012.
"In 2013, however, major office projects in London have proved sizeable enough to start a recovery in the sector."
He said that office work in the third quarter of 2013 had increased on an annual basis by 21.7%, the largest increase since 2007.
This was the result of a sooner than expected pickup in the South East market, which, at the start of 2013 had shown signs of slowing.
Overall commercial activity is expected to grow 2.7% this year following growth of 2.4% in 2013.
Dr Francis added: "In the second half of 2013, the infrastructure sector was a key driver of construction growth, with output in the sector forecast to increase 39.7% by 2017."
This will be driven by a recovery in the roads work where output fell by more than half in two years, combined with further growth in rail construction.
He added: "In the medium-term, from 2015, infrastructure is also expected to be supported by double-digit growth in the energy sub-sector due to main works on the first of the new nuclear reactors at Hinkley Point C."
He said that housing starts in Great Britain last year are estimated to have increased 24% and further growth rates of 16% this year and 10% next year are forecast.
"This private housing growth has been driven by wider economic recovery and government's Help to Buy policy.
"While initial concerns were that this policy would fuel house price inflation, but clearly both house prices and house building have risen significantly.
"After 2015, without Help to Buy to support housing market demand, there are strong concerns about whether house building will continue to improve despite the clear need for new housing.
"As a consequence, the Association's forecasts anticipate the growth in private housing starts slowing in 2016."
Other forecast highlights
Office work to grow 10% in 2015 and 7% thereafter in 2016 and 2017
Public housing starts to rise 2.0% in 2014 and 2015 before marginal growth thereafter as government focuses on affordable, not social, housing
Retail output growth of 2.0% is forecast in 2014, with 5.0% rises expected in 2016 and 2017
Factories growth of 6.0% is forecast for 2014; thereafter, 5.0% per year growth is projected until 2017
Warehouses sub-sector output is forecast to rise 10.0% in 2014 and 8.0% in 2015