But their hopes of an improving outlook were not shared by firms in Wales where sharp falls in workloads hammered confidence, dragging down the latest Civil Engineering Contractors Association Workload Trends Survey.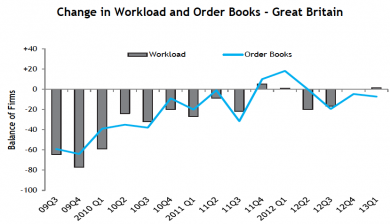 Electricity, water and sewerage and rail work continued to grow in the first quarter. While roads, communications work and gas pipeline work all fell back.
Employment in the infrastructure sector continues to show signs of improvement, but costs and tender prices once again moved in opposite directions, squeezing contractors' margins further.
Expected new work orders held a positive balance of 12% in Great Britain as a whole, with positive balances of 39% and 7% for England and Scotland, respectively.
Constraining this growth was a large negative balance held by Welsh respondents, as 69% reported expectations of lower new work orders.
CECA director of external affairs Alasdair Reisner said: "While growth in the sector is welcome, it is too early to say that the infrastructure sector has entered into a sustained recovery.
"Since the onset of the financial crisis, we have seen such false dawns before. Our members continue to report increased costs and challenging trading conditions.
"The construction sector is holding back the rest of the economy – whereas it should be acting as a motor for growth.
"CECA believes there are steps the government can take in its forthcoming spending review to address this.
"We need to unleash growth by means of infrastructure provision, address the infrastructure deficit, and secure the UK's recovery."