Spittal-based Caithness Stone Industries ran three quarries producing flagstones for paving, walling, cladding and kitchen tops.
It supplied stone to the Scottish Parliament Building, the Belfast Concert Hall and British Memorial Garden in New York.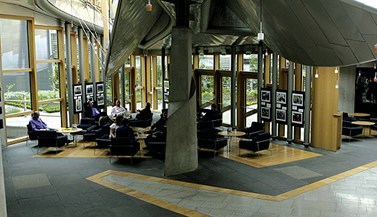 Caithness stone was used extensively on the exterior and interiors of the Holyrood Building  
The stone, which was created over 400 million years ago, has a density and hardness akin to granite.
The firm, which was founded in 1999 and boasted sales of £3m, had recently diversified into supplying the residential market by launching a range of new stone-based products for kitchen, bathrooms, gardens and furniture.
Administrator Iain Fraser of RSM Tenon, said increasing competition, heavy investment expenditure and rising operating costs had resulted in severe and unsustainable cash flow problems.
"Caithness Stone Industries had a high profile as one of the leading suppliers and processors of Caithness Stone.
"The company invested heavily in new technology in order to improve the efficiency of extraction and processing, and successfully diversified into new residential markets.
"We will now undertake a thorough review of Caithness Stone Industries Ltd, the results of which will determine the next steps for the administration."