Modular specialist Mar City Homes has secured the job to deliver the homes on a 142-unit site at the former Atlas Metals site in Cranford Street, Smethwick
The council has pledged to buy 19 two-bedroom, 18 three-bedroom and four four-bedroom properties with the reminder of the homes being sold by the developer on the open market.
The homes will be built in Mar City's factory and then transported and assembled on permanent foundations on site.
Initial work to clear the site and prepare for the start of the build is already underway with the council homes expected to be completed in summer 2015 when they will be added to Sandwell's housing stock and be available for rent to council tenants.
Councillor Ian Jones, cabinet member for jobs and economy, with responsibility for the scheme, said: "The demand for affordable family housing continues to grow in Sandwell and along with the need to replace the properties lost from our housing stock under the Right to Buy scheme, some tenants need more suitable accommodation following the introduction of Welfare Reform.
"By partnering with Mar City to provide much-needed homes, we are jointly regenerating the area with further regeneration to take place opposite this site when work commences on the proposed Midland Metropolitan hospital."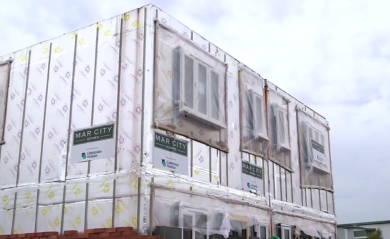 Tony Ryan, chief executive of Mar City Homes Ltd, said:"Mar City strongly believes modular construction is the future of UK house building and we are delighted to showcase our innovative method through our partnership with Sandwell Council.
"By employing modular technology, we are able to deliver economically and energy efficient homes."
Over 10 years, Sandwell Council is investing more than £500m into house and flat improvements and replacing and building new homes.