The tower is expected create 300 construction jobs and once complete 400 permanent jobs.
Peter Weatherhead, of planning agents DTZ, said: "This meets with Birmingham's ambitions to be a world class city and will be a landmark building on a gateway site.
"This is not a speculative scheme. There are tenants lined up and we are ready to get on with construction once permission is granted."
The 200m building will overshadow Birmingham's BT Tower and will be taller than the proposed 51-storey V-Building pencilled for the Arena Central site.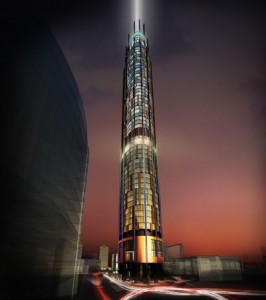 The company has been given three years to commence building work before the planning consent expires.
The lower half of the tower will house a luxury hotel incorporating conference, dining, retail and health and fitness facilities.
A 'Sky Bar' is also planned with outside terracing, to provide panoramic views over the city.
The remainder of Regal Tower will house a mix of serviced apartments and penthouses, designed to complement the nearby business and leisure facilities of Brindleyplace, the National Indoor Arena, and the International Conference Centre.
The scheme lies at the heart of the renaissance of the West side of Birmingham