The agreement kick starts more detailed work, including demolition, planning and the building programme to create a new urban centre in south London over the next 15 years.
Demolition work will begin on the Rodney Road housing blocks in October, with detailed planning consent for its redevelopment agreed by the end of the following year.
A planning agreement for the Heygate Estate is not expected until the end of 2013, with its demolition scheduled by the end of 2015.
The project has already gained global significance after the Elephant & Castle was designated as one of only 16 founding projects of the Climate Positive Development Program.
This Clinton Climate Initiative (CCI) programme, established by former US President Bill Clinton, supports the development of large-scale urban projects that demonstrate cities can grow in ways that are "climate positive."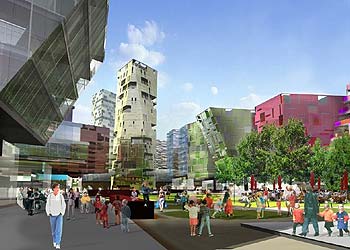 Elephant and Castle plan
5,300 new homes
5,000 metres of new shopping space
five new open spaces
a series of landmark buildings
a new civic square
more than 4,000 new jobs
improvements to transport links, including a new station, upgraded tube connections, new bus and cycle lanes and better facilities for pedestrians