The supermarket's development arm Spenhill said the Trinity Square development will include 40 shops, a new Tesco, cafes, bars and restaurants, student accommodation, 38,000 sq ft of offices and a 120-bed hotel.
Demolition of the Gateshead multi-storey car park made famous by Michael Caine's Get Carter movie will shortly get underway to clear space for the planned development.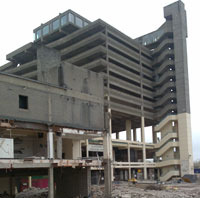 Demolition specialist Thompsons starts on the clearance on 26 July, which is expected to last eight weeks.
Doug Wilson, corporate affairs manager for Spenhill, said: "Beginning the demolition of the car park is a momentous day for Gateshead.
"It has dominated the town centre for many years and in consultations local people have overwhelmingly called for it to go.
"In its place, Trinity Square will be a major investment into Gateshead that will create hundreds of new jobs and a town centre people can be proud of."
He said: "The regeneration of Trinity Square also reflects the confidence we have in the future of Gateshead and its potential for growth".
Newcastle architect 3DReid, who created The Gate in the city centre and the air traffic control tower at Newcastle Airport, has been appointed to finalise the more detailed elements of the proposals.